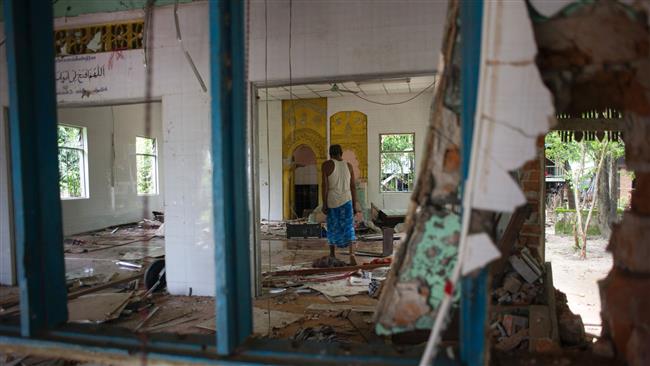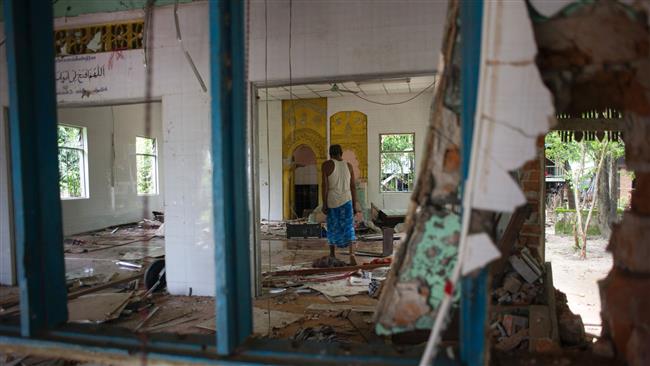 A Buddhist mob has reportedly set a mosque on fire in northern Myanmar in a fresh act of violence against Muslim minorities in the Southeast Asian country.
Buddhist extremist residents of the town of Hpakant ransacked the mosque on Friday while "wielding sticks, knives and other weapons" before burning it down, the state-run English daily, the Global New Light of Myanmar reported.
"The mob was unresponsive and entirely beyond control. The building was razed by the riotous crowd," the report said.
The raid was triggered by a dispute over the mosque's construction, the report said, adding that police have made no arrests over the assault.
This was the second such attacks on a Muslim prayer site in just over a week in the Buddhist-majority state.
On June 23, a group of about 200 Buddhist extremists raided a Muslim area of Thuye Tha Mein village in Myanmar's Bago Province, destroying parts of a mosque and forcing residents to seek refuge overnight in a police station.
The violence broke out following an argument between the residents over the construction of a Muslim school in the area.
Amnesty International slammed the June 23 raid as a "criminal offense," urging the Myanmarese government to take "swift action" and launch an "impartial" investigation to find those guilty.
"This incident must be immediately and independently investigated and those suspected of involvement must be brought to justice and victims receive effective remedies including reparations," said Rafendi Djamin, Amnesty's Director for Southeast Asia and the Pacific.
The new attack came on the same day that Yanghee Lee, the United Nations special rapporteur on the situation of human rights in Myanmar, warned that "tensions along religious lines remain pervasive across Myanmar society."
In a press conference concluding her 12-day visit to the Asian country, she urged the government to "demonstrate that instigating and committing violence against an ethnic or religious minority community has no place in Myanmar."
The UN official further called for the improvement of living conditions in the cramped and decrepit camps for Rohingya and other Muslims in the western state of Rakhine, highlighting the need for putting an end to "institutionalized discrimination against Muslim communities" there.
Muslims living across Buddhist-governed Myanmar suffer persecution, but the Rohingya minority community in Rakhine is suffering the most.
Myanmar's government refuses to recognize Rohingya Muslims as citizens. They have been denied Myanmarese citizenship since a new citizenship law was enacted in 1982.
The Rohingya call themselves by this name, but Buddhists identify them as "Bengalis," meaning they are immigrants from Bangladesh.
Hidenous anti-Muslim sentiments among the radical Buddhists in Myanmar have led to numerous deadly attacks against the Rohingya Muslims, many of whom have been forced into camps or compelled to flee abroad.
Last month, the UN warned that widespread and ongoing human rights violations against Myanmar's Rohingya Muslims could amount to crimes against humanity.