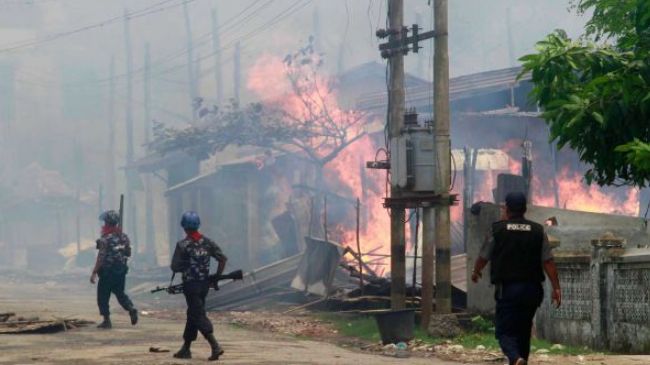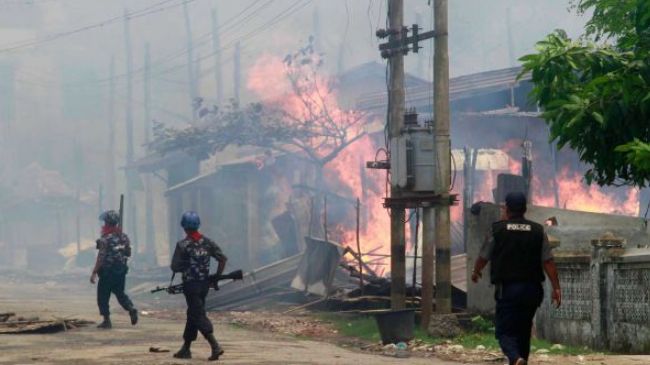 Buddhists have burned down a mosque in Myanmar's Rakhine state amid growing concerns over a state-sponsored ethnic cleansing of Rohingya Muslims in the country,Press TV reports.
Government-backed Buddhists on Friday continued burning Muslim villages and destroying their mosques.
The report comes as heavy army presence in the Rakhine's capital, Sittwe, has been reported and a curfew has been put in place.
The northern Rakhine state has been the scene of violence against Rohingyas since June 2011, leaving dozens dead and thousands homeless.
The Buddhist-majority government of Myanmar refuses to recognize Rohingyas, who it claims are not natives and classifies as illegal migrants, although the Rohingya are said to be Muslim descendants of Persian, Turkish, Bengali, and Pathan origin, who migrated to Myanmar as early as the 8th century.
Myanmar's President Thein Sein said on July 19 that Rohingya Muslims must be expelled from the country and sent to refugee camps run by the United Nations.

Reports say some 650 Rohingyas have been killed in the Rakhine state in the west of the country in recent months. This is while 1,200 others are missing and 80,000 more have been displaced.
Last week, the Human Rights Watch (HRW) condemned the Myanmar government for the killing of minority Rohingya Muslims during a recent wave of sectarian violence in the country.
The UN says decades of discrimination have left the Rohingyas stateless, with Myanmar implementing restrictions on their movement and withholding land rights, education, and public services from them.