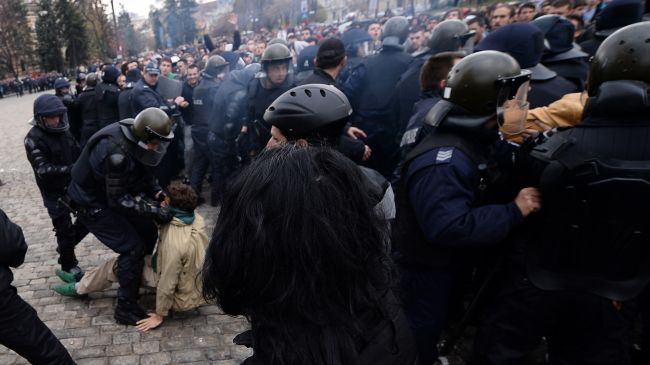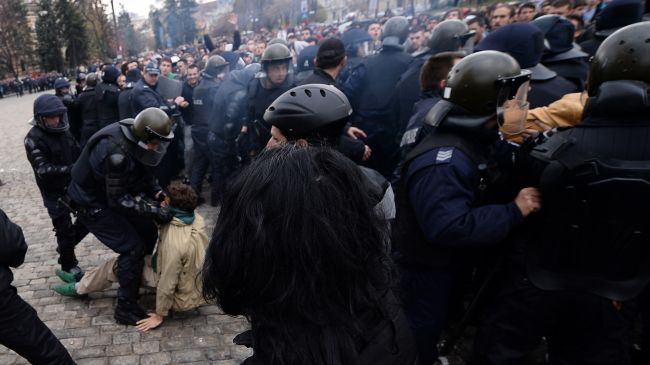 Angry students in the Bulgarian capital of Sofia have clashed with the riot police, demanding the government's resignation and calling for early elections.
Hundreds of Bulgarian students tried to cordon off the parliament building by forming a human chain around it to prevent lawmakers from leaving on Tuesday as they escalated their demonstrations against the Socialist-led government.
However, they were unable to pass a heavy police blockade around the parliament despite hurling objects at the police officers. Five protesters were arrested during the scuffles.
The protest followed another demonstration where students have chained shut the doors of the Balkan country's biggest university since Monday, while occupying lecture halls and preventing teaching.
The protesters began occupying parts of the university on October 23, when students interrupted a lecture of Dimitar Tokushev, the chair of Bulgaria's Constitutional Court and professor at Sofia University.
On Sunday, students rallied at 15 universities across the nation, calling for the cabinet of Prime Minister Plamen Oresharski to resign over allegations of corrupt ties with business groups.
Anti-government protests have since then been held daily, calling for an overhaul of the political system in Bulgaria.
The current Bulgarian government came to power in May after the previous government fell in February following massive protests over low living standards and high utility bills in one of the poorest European Union countries.