Europe
Bulgaria students protest in Sofia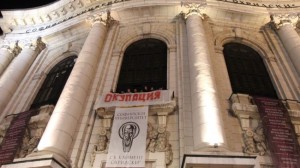 Bulgarian students have called for the resignation of the government and an end to political corruption.
Dozens of students under the name "Early Rising Student" blocked on Saturday all the entrances to the main building of St Kliment Ohridski University in the capital, Sofia.
"We are ready to maintain the blockade until our demands are met," said student leader Borislav Rangelov.
The students issued a declaration, in which they demanded that Prime Minister Plamen Oresharski resign, new elections be held. The demonstrators also urged an end to what they say is impunity for top officials.
In the declaration, the protest group called for "intolerance on the part of the body politic towards the widespread criminal lawlessness at the highest levels of state government."
Rector Ivan Ilchev said the university management "understands the students' actions as a reaction to the lack of morals in political life and the absence of concern for the future of the young people."
However, he urged the protesters to unblock the entrances to allow the 14,000 students to attend classes.
The protesters began occupying parts of the university on October 23, when students interrupted a lecture of Dimitar Tokushev, chair of Bulgaria's Constitutional Court and professor at the university.
Students demanded Tokushev to explain the court's recent decision to confirm the status of controversial media mogul Delyan Peevski as a member of parliament.
Peevski's parliamentary status had remained unclear since Prime Minister Plamen Oresharski withdrew his nomination as chief of Bulgaria's National Security Agency (DANS) in June after protests erupted.
The appointment was controversial since Peevski runs one of the major media groups in Bulgaria and has no experience in national security.
Anti-government protests have since then been held daily calling for an overhaul of the political system in Bulgaria.
On July 24, protesters blocked the parliament building for hours, preventing over 100 ministers and others from leaving the premises.
The current Bulgarian government came to power in May, two months after the previous government fell following massive protests over low living standards and high utility bills in the poorest member of the European Union.