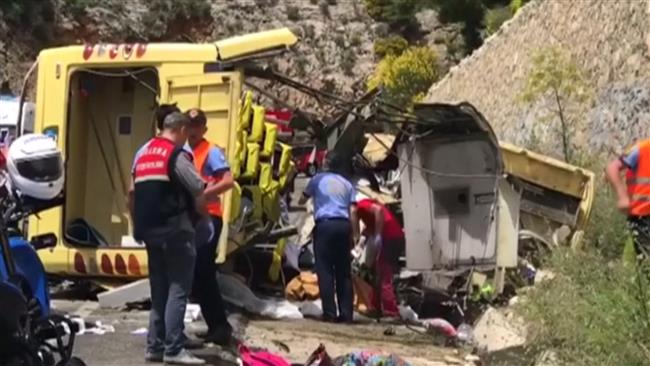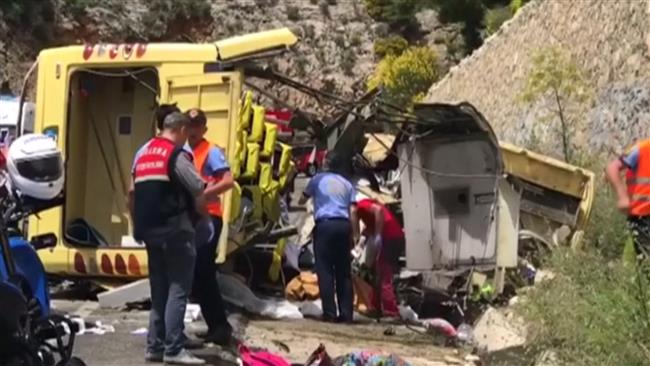 Twenty-three people were killed and 11 injured when a bus carrying Turkish tourists crashed near the southwestern holiday town of Marmaris in Mugla Province, a local official says.
Mugla Deputy Governor Kamil Koten told Anadolu Agency that the death toll in the accident increased to 23 when three bodies trapped under the vehicle were taken out. Koten said 11 people had been injured.
Amir Cicek, the governor of Mugla province, had earlier put the death toll at 20. He had said that the bus was carrying about 40 people, many of whom were women.
The bus was heading to Marmaris from the Buca district of the western province of Izmir for a one-day trip when the driver lost control of the vehicle in the Sakagecidi region and the bus tumbled down a cliff.
Ambulances, fire department and teams from Turkey's Disaster and Emergency Management Authority (AFAD) were dispatched to the scene.
"There were no foreign tourists inside it. The reason for the accident is being examined. There may be a malfunction in the brakes, but the issue is being investigated," Cicek said.
Marmaris Mayor Ali Acar also said that "the situation is dire. A high number of people were killed. I think that the accident was a result of driver failure."
Marmaris is one of the country's main resorts on the Mediterranean, and a popular weekend destination for many Turks as temperatures climb.
(Source: Agencies)