Iran
Technology
Bushehr N. Plant to Add 1,000MW to National Grid by March 2012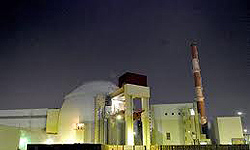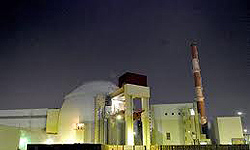 Iran's first nuclear power plant in the Southern port city of Bushehr will add 1,000 megawatts of electricity to the national grid by the end of the current Iranian year (ends on March 19, 2012), Iranian Minister of Energy Majid Namjou announced.
Namjou said that the related tests have been successfully done and the ministry of energy is waiting for the Atomic Energy Organization of Iran (AEOI) to announce its readiness for the operation.
He further announced that some 500MW nuclear electricity has so far joined the national grid.
On Saturday, an Iranian Energy Ministry official announced that Bushehr power plant will reach its nominal power generation capacity after the operation of the second phase of the plant,
Deputy Energy Minister Mohammad Behzad said at the time that that the first phase of the plant is functioning at the capacity of 500 megawatts, and noted that the second phase will soon be fully operational.
After the operation of the second phase, electricity production at Bushehr power plant will reach its nominal capacity of 1000-megawatt by the end of the current Iranian year (ends on March 19).
Late in November, Iran's nuclear chief Fereydoun Abbasi said that Bushehr nuclear power plant will become fully operational, producing the maximum amount of electricity during the Ten-Day Dawn celebrations (marking the Iranian revolution's victory over the former Pahlavi regime) from February 1 to 11, 2012.
"Numerous tests have to be carried out on the plant, to make sure that no technical glitches exist and the plant functions properly," Abbasi said at the time.
He said the Bushehr plant has produced electricity on several occasions before, at less than maximum capacity, of course.
Abbasi said the plant was connected in a 15-day period to Iran's national electricity grid, and it produced 456 Megawatts of electricity during those 15 days.
"We are currently trying to run the plant at 75 percent of maximum capacity," he said.
On October 26, Iran started injecting Russian fuel into the core of the Bushehr nuclear power plant in the initial phase of launching the nuclear reactor.
Iran held a ceremony in September to mark the preliminary launch of the delayed project.
The facility operates under the full supervision of the International Atomic Energy Agency (IAEA).