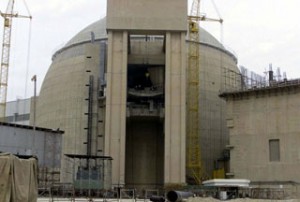 After Moscow said that a Russian-built nuclear power plant in Iran would not go online by the end of 2009 as planned, a top Iranian nuclear official says the plant will be completed within months.
Earlier on Monday, Russia announced that due to technical problems its engineers are not able to start up the reactor at the Bushehr plant, Iran's first nuclear power station, by the year's end.
"We expect major results by the end of the year, but the launch will not take place," Interfax quoted Russian Energy Minister Sergei Shmatko as saying.
Moscow had previously announced that the power plant, located in Iran's southern city of Bushehr, would be up and running by the end of 2009.
Meanwhile, Kazem Jalali, the spokesman for Iran's Foreign Policy and National Security Commission in Majlis quoted the head of Iran's Atomic Energy Organization (AEO) as saying that the final steps for the launch of the plant are underway.
"In line with an agreement with the Russians, this plant will be launched in the coming months and it is currently on the final stages," AEO chief Ali Akbar Salehi was quoted as saying on Wednesday.
Salehi said the injection of fuel into the plant's reactor is among the first measures to be carried out at the Bushehr power plant.
Meanwhile Jalali said that no definite timeline can be set for the inauguration of Bushehr power plant, explaining the reason as being the time difference between the Iranian and Christian calendars.
The delay in the launch of Bushehr plant comes as Tehran and Moscow signed a deal on the construction of the facility in 1995.
Under the deal, the plant was originally scheduled to be completed in 1999.
Referring to the long overdue construction of the site, Jalali urged the AEO chief to pursue the matter more actively.
"As this plant has turned into a symbol of cooperation between Russia and Iran we hope that it comes on stream soon as possible," Jalali added.