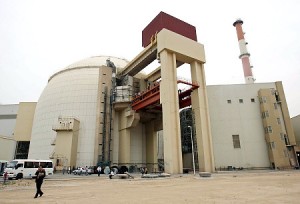 Amid Russia's pledges on completion of the long-delayed Bushehr Nuclear Power plant, the most pivotal test to bring the reactor into operation will be conducted in next to no time, an Iranian official announces.
The so called "Warm Water Test" will examine all equipment of the facility in high temperature," Bushehr Project Manager Mahmoud Jafari said.
Jafari said that the 250-bar, 110-bar and Metal Core Tests were successfully conducted in the past, adding "1,000 megawatts will be added to electricity production capacity of the country, should the reactor become operational."
The Warm Water Test will coincide with the National Nuclear Technology Day in which the country celebrates its latest scientific achievements.
Iran expects to generate 17.5 percent — 20,000 megawatts — of the country's electricity demand through nuclear energy over the next two decades.
The much delayed nuclear power plant on the southern Iranian coast by the Persian Gulf is scheduled to come on line by the end of spring, according to head of the Atomic Energy Organization of Iran Ali Akbar Salehi.
The construction of the Bushehr plant started in 1975 when Germany signed a contract with Iran. Berlin, however, pulled out of the project following the 1979 Islamic Revolution.
Iran then signed a deal with Russia in 1995. Under the deal, the plant was originally scheduled to be completed in 1999 but completion of the USD 1 billion project has been repeatedly delayed.