Economy
Iran
Middle East
Turkey
Business as usual as Iran reopens borders to international trade
Almost all Iranian borders are reopened to international trade, in a further sign that the novel coronavirus is coming under control after a period of shutdowns and restricted exchanges.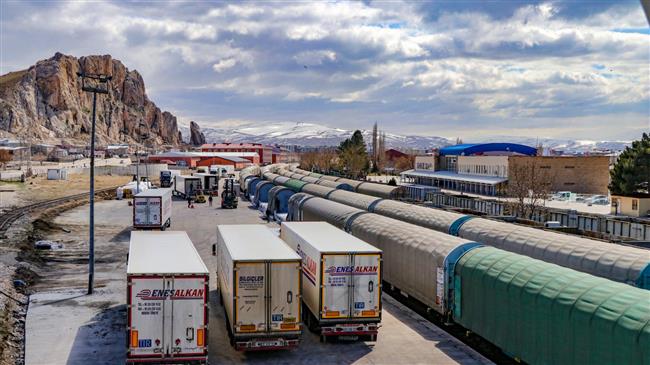 Goods have started to flow across the land borders with Iraq, Turkey, Armenia, Azerbaijan, Afghanistan and Pakistan as well as maritime borders with the UAE, Kuwait, Qatar and Oman, media reports said on Tuesday.
"Only the border with Turkmenistan which has closed all its borders remains closed," Government spokesman Ali Rabiei was quoted as saying. Other than that, "all our borders are open now", he added.
Countries closed their borders and imposed restrictions short of total lockdowns after the new coronavirus emerged in the region, but they are starting to ease them in a balancing act between protecting public health and their economies.
President Recep Tayyip Erdogan said Monday his government is working on a detailed plan to ease coronavirus restrictions in Turkey which is now the worst hit country in the Middle East.
Turkish officials announced 95 deaths in the past 24 hours on Monday, the lowest since April 11. They took the total death toll to 2,900, with 112,261 confirmed infections.
Iran, also hard hit by the virus, has allowed some business activities to resume and lifted an inter-city travel ban.
On Sunday, President Hassan Rouhani Rouhani unveiled a color-coded system under which the country would be divided into red, yellow and white regions depending on the rates of infection and number of coronavirus deaths.
As for international trade, Iran and Turkey have resumed normal rail trade. For land trade, Turkey last month had developed a formula under which Turkish truck drivers would park their trailers at the border gate where they would be taken by Iranian drivers and driven into the country, Hurriyet newspaper reported.
Ankara has denounced unilateral US sanctions on Tehran, saying it is determined to maintain trade with the Islamic Republic. Iran and Turkey have agreed to step up their economic cooperation and raise their annual trade to $30 billion.
Officials are now moving to allow imports of goods and services and let businessmen commute between countries, Rabiei said Monday. "In the next phase, we will allow passengers to travel with permission from the health ministry."
Afghanistan lifts ban
The movement of goods and passengers across the frontier with Afghanistan is almost fully restored already, Iranian customs officials said at the weekend.
Mohammad Mehdi Javanmard-Qassab, Iran's trade attaché in Kabul, told IRNA Monday that the Afghan government had lifted a ban on imports of day-old chicks, adult chickens and eggs from Iran.
"Afghanistan is one of the most important markets for Iranian products," he said, adding Iranian poultry farmers can use the opportunity to export their products and import chicken feed from Afghanistan.
The lifting of the ban by Afghanistan is especially good news after disturbing reports in Iran that some poultry farmers were euthanizing day-old chicks in the wake of the coronavirus outbreak.
Videos circulating on social media last week purportedly showing farmers burying chicks alive sparked a wave of recrimination and outcry, with several state and religious authorities denouncing the practice illegitimate and immoral.
Some producers justified it, saying they had to dispose of the birds in the face of paralyzed demand and depleted feed stocks which the coronavirus outbreak has caused.
Meanwhile, at least 20 trucks carrying Iranian dates crossed the Taftan border into Pakistan Monday after the government decided to resume imports from Iran, the English-language Dawn newspaper reported.
Official sources told the paper that the border would be opened at Chagai, Washuk, Panjgur, Turbat and Gwadar to meet the requirements of people dependent on Iranian commodities.
US extends Iran waiver for Iraq
Iraq is another major market for Iranian goods. Custom officials said Iran's border with Iraq has opened in the north but negotiations are continuing over the resumption of operations at other checkpoints further south.
Iraq relies on Iran for trade and natural gas that generates as much as 45% of its electricity, but the United States is trying to pry Baghdad away from Tehran's orbit.
On Monday, Iraqi officials said the US had again granted Iraq a month-long sanctions waiver enabling the government to continue importing gas and electricity from Iran.
The issuance of another 30-day waiver was communicated the Iraqi government in a phone call from the US State Department, without a formal notification in writing, they told the Associated Press.
The US has been enlisting its companies and allies such as Saudi Arabia to replace Iran as Iraq's source of energy, but no practical solution has been developed and deployed yet.
Instead, Washington has had to grant the Iraqi government repeated exemptions and allow the Arab country to keep trade with Tehran.
For their run-of-the-mill sustenance, Iraqis depend on Iranian companies for many things from food to machinery, electricity, natural gas, fruits and vegetables.
Exports of coronavirus equipment
In recent days, Iranian officials have stepped up their contacts with regional countries and discussed boosting trade and other ties. On Monday, Foreign Minister Mohammad Javad Zarif contacted his counterparts in UAE, Iraq and Oman to discuss a raft of issues including the coronavirus.
Vice President for Science and Technology Sourena Sattari said Monday authorities had issued permit for export of the first batch of Iran's coronavirus test kits.   
Amid the US sanctions, Iran has been producing most of the necessary gear used in diagnosing and treating patients. Officials have said the country is ready to supply them to neighbors and other friendly countries.