Palestine
"…But honor belongs to Allah and His Messenger, and to the Believers…"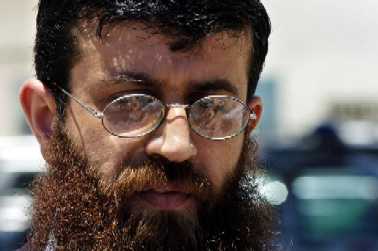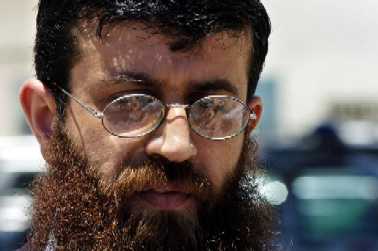 "MY DIGNITY is more precious than food." This is what gives Palestinian detainee Khader Adnan patience in his hunger strike struggle that entered the 64th day, the longest in the history of the Israeli-Palestinian conflict.
In a new form of resistance, Adnan was protesting the Israeli "humiliation and policy of administrative detention" as well as the policy of detaining prisoners without charges or trial for periods of up to six months.
Shackled to hospital bed by both legs and one arm, the 33-year-old has lost at least 30 kilograms and doctors from Physicians for Human Rights who are monitoring his health each day say his condition has deteriorated so significantly that he may die at any time.
The wife of Palestinian Prisoner Khader Adnan called upon Arab masses in general and the Egyptian people, in particular, for urgent action in support for her husband who was nearing death after his health condition deteriorated. "We call upon the rebellious Arab peoples who removed the tyrants, especially our brothers in Egypt, to rise up in support of Sheikh Khader and join him in the battle of dignity, just as they did when they tore down the wall surrounding the embassy of the Israeli enemy in Cairo and broke into it last September," Randa Adnan said.
Khader Adnan was arrested by Israeli occupation soldiers on December 17 midnight, while at his home in the Palestinian village of Arrabeh on the outskirts of the West Bank city of Jenin. After eighteen days of interrogation – during which he was tortured and humiliated by agents of Israel's domestic security forces – he was imprisoned without charge or trial in what is called "administrative detention". It's worth mentioning that there are currently more than 300 Palestinians being held in "administrative detention" by the satanic Zionist entity, without charge or trial, for renewable periods of six months, without any way of defending themselves.
Catherine Ashton, the EU's foreign policy chief, on Saturday called on Israel to "preserve" the health of Adnan. Ashton's office said she was "following with great concern reports about the deteriorating health condition of Khader Adnan." "Detainees have the right to be informed about the charges underlying any detention and be subject to a fair trial," her office said.
Adnan's family and legal team were hoping that he would be released this week after his case went to the Ofer military court in the West Bank. However, the court rejected his appeal and ordered that Adnan must remain under administrative detention for four months which will end on May 8. The military court said "that Adnan was solely responsible for the damage to his health," but the Israeli Supreme Court has now agreed to hear his petition, though no date has been set for a hearing.
The Israeli military has said little about why Adnan was arrested, saying his case was being handled "strictly according to the law" with "special attention being given to his humanitarian situation" which is worsening day after day.
Ma'an news agency obtained a copy of a letter by Adnan which was handed earlier to his attorney. In the letter Adnan writes: "The Israeli occupation has gone to extremes against our people, especially prisoners. I have been humiliated, beaten, and harassed by interrogators for no reason, and thus I swore to God I would fight the policy of administrative detention to which I and hundreds of my fellow prisoners fell prey. "The only thing I can do is offer my soul to God, as I believe righteousness and justice will eventually triumph over tyranny and oppression."
Addressing the Palestinian people, Adnan said: "I starve myself for you to remain. I die for you to live. Stay with the revolution."