North America
California protests against police shooting of black man turn violent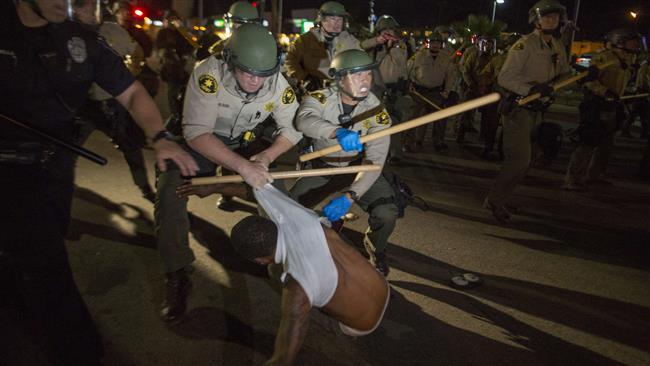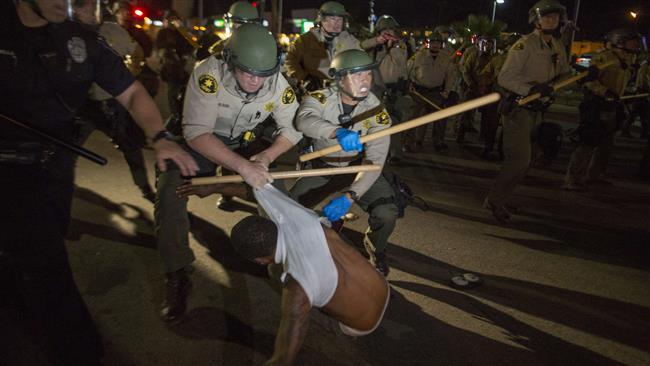 Protests over the fatal shooting of an unarmed black man by police in El Cajon, California, have turned violent, with protesters throwing objects at officers and smashing car windows.
The protests continued Thursday for the third consecutive night in the city to condemn the police killing of 38-year-old Alfred Olango who was reportedly mentally ill.
The unrest first erupted on Tuesday, when officers shot and killed the Ugandan-born man who they say ignored police commands and took a "shooting stance" in the parking lot of a restaurant.
After the fatal shooting, police found that the object Olango was allegedly pointing at officers was a vaping device, not a firearm. Witnesses said they saw Olango's hands in the air when he was shot.
Dozens of protesters occupied an intersection on Thursday night, blocking traffic and smashing car windows.
Some people began hurling glass bottles and other objects at officers after they ordered the crowd to disperse. Police said they arrested two protesters.
Police have refused to make the video of the shooting available to the family of the victim or the public, saying an investigation should first be completed.
Olango's family has called for the release of the video.
"We do believe that Alfred Olango was unjustly killed. We do believe the officer who shot him five times did this with misconduct," said the Rev. Shane Harris, president of National Action Network San Diego, a civil-rights organization.
Harris joined Olango's mother and daughter at a news conference Thursday to call for justice and public accountability.
"We are here to address the injustice … and we only can get a photo, but yet the country is begging for a video," Harris said.
Police have released a screen-grab from the cellphone video that shows Olango in what authorities described as a "shooting stance" moments before he was gunned down.
The police killing came days after two African-American men were killed by police in Charlotte, North Carolina, and Tulsa, Oklahoma, sparking protests against police brutality in those cities.
A state of emergency and curfew were imposed by authorities to quell the unrest in Charlotte.