Europe
Saudi Arabia
Calls grow worldwide for release of Saudi Shia cleric, Ayatollah Nimr al-Nimr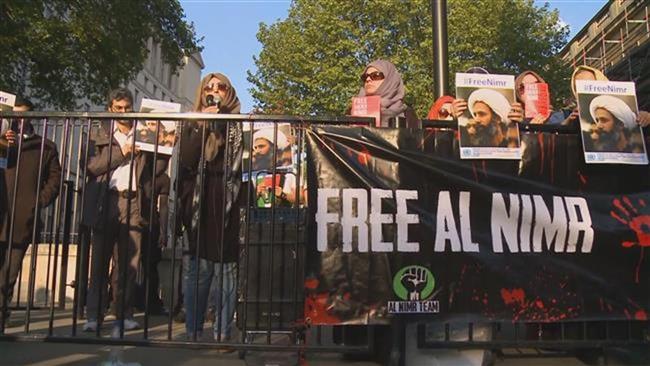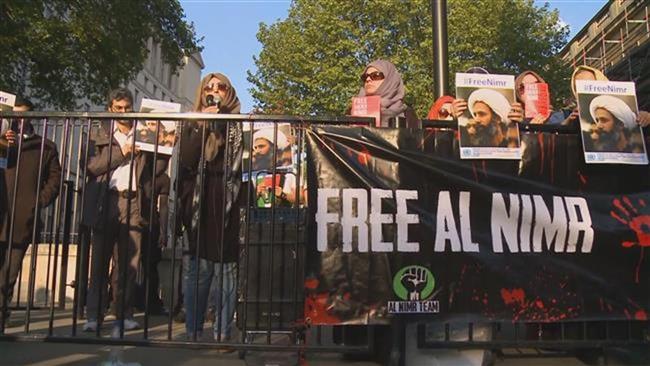 Calls are growing worldwide for the release of prominent Saudi Shia cleric, Ayatollah Nimr al-Nimr, who's facing execution, Press TV reports.
On Thursday, Saudi protesters once again held a demonstration in the Qatif region of Eastern Province, calling on the Royal family to overturn the death sentence handed to Nimr.
In the British capital, London, demonstrators staged a rally in solidarity with the cleric, who is sentenced to death for taking part in anti-regime protests in 2011.
The protesters and rights activists called for the immediate release of Sheikh Nimr and criticized the UK government for ignoring rights violations in Saudi Arabia.
"There are over 30,000 political prisoners in Saudi Arabia, but with Sheikh Nimr, he has become the name of them; he has become the representative of all the minority, the oppressed people in Saudi Arabia," a protester (above) told Press TV.
The demonstrators say they are keen to keep up the pressure on Saudi Arabia by reminding Britain – one of Riyadh's strongest diplomatic allies – that its friendship with the ultra-conservative kingdom has serious human rights implications.
Despite a Saudi court passing the death sentence in October 2014, the UK's Foreign Office just said that it was "aware" of the judgment.
"We want every single means of intervention used to show that this execution does not go ahead, simply because human rights is a very sensitive topic for each and every one of us, and I think it is important that we understand that this is a man's life at stake. He hasn't committed any crimes, he has remained peaceful, his followers have remained peaceful and it is time that we show that the Saudi family stops committing crimes against innocent individuals," Afreen Rizvi (shown above), from the Free Sheikh Nimr Campaign, told Press TV.
The protesters have promised to continue their call to action until Sheikh al-Nimr is released. Similar protesters have been held in other countries including Iran, Iraq and Bahrain in the recent days.
Meanwhile, a leading human rights organization in Britain has joined rights groups worldwide demanding clemency for the dissident cleric.
The London-based Islamic Human Rights Commission asked the United Nation to intervene and prevent the execution.
The Shia cleric was attacked and arrested in Qatif in July 2012, and has been charged with disturbing the kingdom's security, delivering anti-government speeches, and defending political prisoners.
There have been numerous demonstrations in Saudi Arabia's Eastern Province since 2011, with protesters calling for political reform and an end to widespread discrimination. A number of people have been killed and many have been injured or arrested during the demonstrations.
The monarchy has intensified the repression not only against Shia Muslims, but also against Sunnis and other dissident voices.
International human rights organizations have criticized Saudi Arabia for failing to address the rights situation in the kingdom.
On May 1, Amnesty International criticized Saudi Arabia for its grim human rights record, arguing that widespread violations continue unabated in the oil-rich country even though a new king has taken the helm of the absolute monarchy.