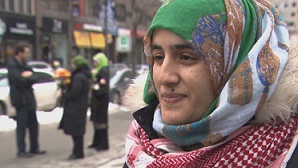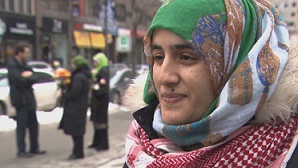 "We want to show to the world that [Islam] is not a bad religion," Massouma Al-Bahely, one of the organizers of the event, told CBC News on Saturday, February 1.
"It's not, like, terrorists; everybody thinks that but we are not. I'm like everybody in the world. I'm a human," she added.
Organized by Muslim Youth Montreal group, the event was held to mark the recent anniversary of the birth of Prophet Muhammad (peace be upon him).
It also coincides with the second annual World Hijab Day celebrated around the world on February 1.
According to the event's organizers, the roses were a subtle gesture of goodwill meant to spread the true message of Islam as a peaceful religion.
The Muslim initiative won plaudits from McGill University professor Daniel Weinstock who specializes in political philosophy.
He said gestures like this do help in building bridges between Canadians of different faiths.
"Nobody should have to be put in the positions that Muslims are put in today, which is have to remind people that at the end of the day there are just like everybody else," Weinstock said.
Muslims are the fastest growing religious community in Canada, according to the country's statistical agency, Statistics Canada.
Canada's Muslim population increased by 82 per cent over the past decade — from about 579,000 in 2001 to more than 1 million in 2011.
The survey of almost three million people showed that Muslims now represent 3.2 percent of Canada's total population, up from 2.0 percent recorded in the 2001 Census.