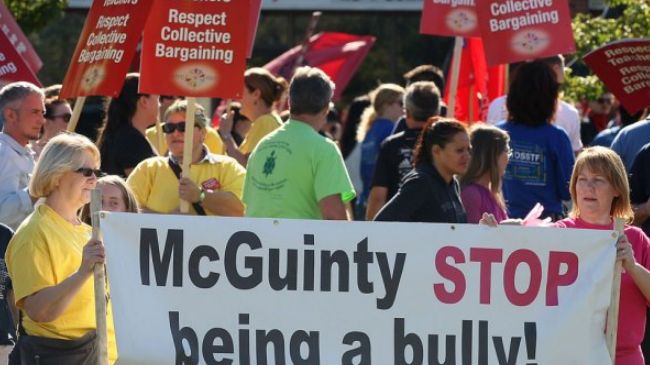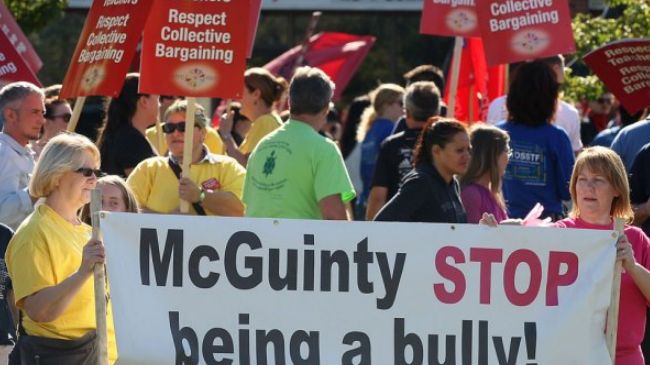 Teachers in Canada's Ontario province have started a series of rotating strikes to protest a controversial new law that gives the government the power to stop strikes and impose a new collective agreement on teachers.
The strikes began on Monday, with elementary school teachers in the Avon Maitland school district near Goderich and the Ontario North East district near Timmins staging a one-day strike.
The strikes are expected to spread to Ottawa on Wednesday and the Greater Toronto Area on Thursday.
The Elementary Teachers' Federation of Ontario (ETFO) has said that it would give a three-days notice before any job action.
The Ontario Secondary School Teachers' Federation has also said that its members would work to rule and quit doing any non-classroom work such as spots and holiday concerts starting Monday.
Premier Dalton McGuinty rebuked the schoolteachers for launching the one-day walkouts.
"The Elementary Teachers' Federation of Ontario has disrupted nine years of labor peace over a disagreement about pay," he said in a statement.
"It's regrettable that students miss any time learning, and it's unfortunate that families will need to make alternate arrangements," the statement added.