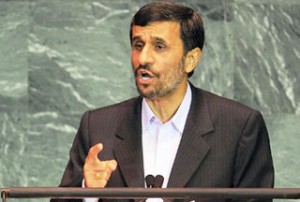 Iran's President Mahmoud Ahmadinejad says the "unfair capitalism" system has reached the end of the road and the world needs fundamental changes.
Ahmadinejad, in his address to the 64th session of the UN General Assembly on Wednesday said, "Continuation of the current circumstances in the world is impossible."
He noted that the present unfavorable condition in the world runs counter to the very nature of human kind and contravenes the goal behind the creation of the world.
"It is no longer possible to inject thousands of billions of dollars of unreal wealth to the world economy simply by printing worthless paper assets, or transfer inflation as well as social and economic problems to others through creating severe budget deficits," Ahmadinejad said.
"The engine of unbridled capitalism with its unfair system of thought has reached the end of the road and is unable to move," the Iranian President stated.
"The era of capitalist thinking and imposition of one's thoughts on the international community, intended to predominate the world in the name of globalization and the age of setting up empires is over," Ahmadinejad concluded.