Car bomb in Yemen capital leaves dozens killed, wounded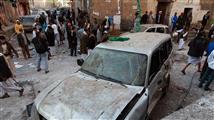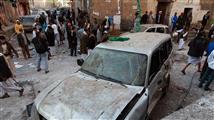 A car bomb has gone off outside a police college in the Yemeni capital, Sana'a, leaving dozens of people dead and injured.
A group of students outside the college were seemingly the target of the car bomb attack on Wednesday, witnesses said.
The people dead and wounded in the incident were taken away by ambulances.
A large plume of smoke also encircled the area of the college.
No group has claimed responsibility for the deadly bomb attack but the al-Qaeda terrorist group in Yemen has carried out similar attacks against the Ansarullah movement in the past.
Last week, over 30 people were killed and dozens of others wounded in an explosion targeting Houthi movement's Ansarullah fighters in the city of Ibb in central Yemen.
Over the past months, al-Qaeda militants have frequently carried out attacks on Yemen's security forces. The militants have also been engaged in battle with the Shia Ansarullah fighters.
Yemen's central government has so far failed to confront the terrorist threat.
Ansarullah fighters, who played a major role in ousting Yemen's former dictator Ali Abdullah Saleh, however, have intervened to fill the vacuum and have driven al-Qaeda militants out of many areas in the country.