North America
Cargo train thefts see 160% spike in Los Angeles, says top US railroad company
In a bizarre development, rail thefts have witnessed an unprecedented surge in Los Angeles County, with thieves climbing cargo trains, breaking into containers and stealing packages, according to reports.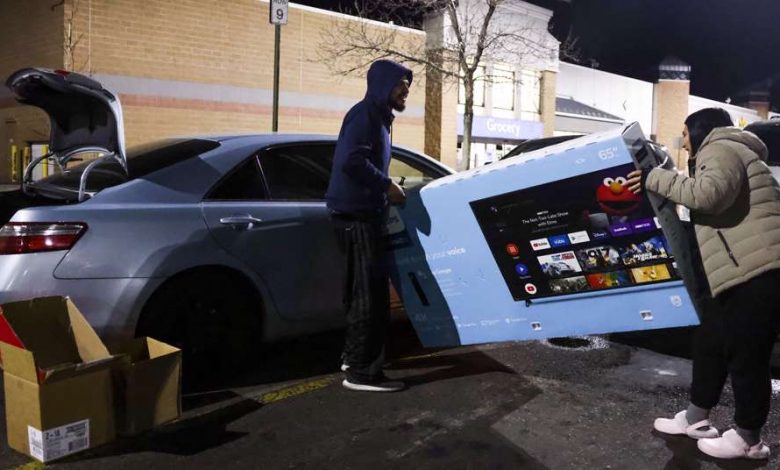 Union Pacific, a freight-hauling railroad that operates in 23 US states, in a statement on Sunday said it had seen rail thefts increase by 160% in the county over the past year.
According to a report by AFP, many major US mail order and courier companies such as Amazon, Target, UPS and FedEx are being hit by the thefts.
The problem has assumed alarming proportions in the past three months with more than 90 containers targeted on an average every day, the company said.
The phenomenon exploded recently with the peak of activity linked to Christmas and New Year shopping.
The thieves have left railway lines littered with debris from merchandise that was supposed to arrive at warehouse facilities around the country, as seen in photos and videos.
On Saturday afternoon, a number of cars belonging to the Union Pacific train derailed in a Lincoln Heights area where packages were thrown on the tracks.
While the cause of the derailment is currently being investigated, the incident has brought into focus many problems posed by littered rails.
Union Pacific said the railroad had mobilized "an aggressive response" to the thefts, with deployment of more officers in areas mostly targeted by thieves as well as drones surveilling the tracks.
"Doesn't matter what time it is. It could be broad daylight and they just don't care," Union Pacific subcontractor Louis Barosas was quoted as saying.
The company said its agents had detained hundreds of suspects over the thefts, but very few were booked and some were released in less than 24 hours. 
"While criminals are being caught and arrested, charges are reduced to a misdemeanor or petty offense, and the person is back on the streets in less than 24 hours after paying a nominal fine," a spokesman for the rail operator told AFP.
It sent a letter to Los Angeles County District Attorney George Gascón, asking for action to deal with "the spiraling crisis of organized and opportunistic criminal rail theft."
Cargo train theft is at an all-time high in Los Angeles as low-life thieves steal shipments daily.

Packages belonging to people from all over the U.S. are being stolen as trains stop to unload.pic.twitter.com/HQebk9djRf— Suburban Black Man 🇺🇸 (@goodblackdude) January 14, 2022
"Even with all the arrests made, the no-cash bail policy and extended timeframe for suspects to appear in court is causing re-victimization to UP by these same criminals," the letter reads.
Union Pacific said those arrested "boast to our officers that charges will be pled down to simple trespassing – which bears no serious consequence."
Due to thefts, Union Pacific said it had seen customers like UPS and FedEx seeking to divert rail business to other areas, and is now planning "serious changes" to its operating plans to avoid the county.
"We do not take this effort lightly, particularly during the supply chain crisis, as this drastic change to our operations will create significant impacts and strains throughout the local, state, and national supply chain systems," Union Pacific said.
The operator estimates that damages from such thefts in 2021 amounted to some $5 million, adding that the amount in claims and losses "does not include respective losses to our impacted customers" or the impact on Union Pacific's operations and the entire Los Angeles County supply chain.