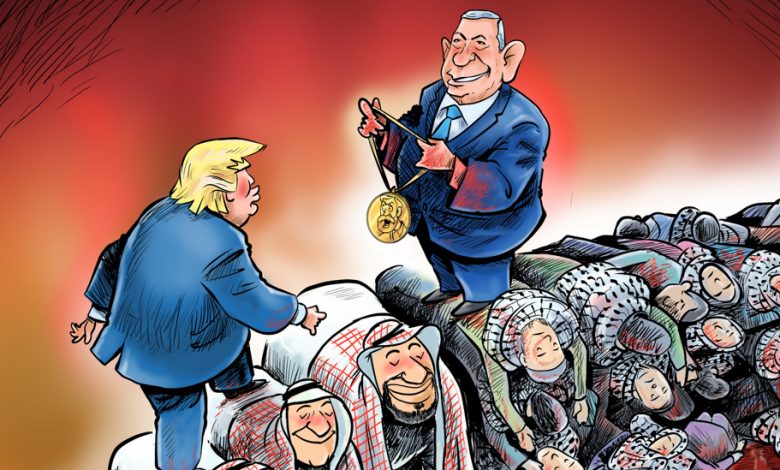 The official website of Leader of the Islamic Revolution Ayatollah Seyyed Ali Khamenei has published a caricature satirizing the recent controversial Israeli-Arab normalization deals mediated by the United States.
Leader's website (Khamenei.ir) on Wednesday posted the cartoon which shows that Israeli prime minister Benjamin Netanyahu waiting for US President Donald Trump to put a medal around his neck.
Trump is seen walking on the back of the Arab rulers to get to Netanyahu, who is standing on the bodies of the Palestinian people massacred by the Tel Aviv regime.
The cartoon is depicting an earlier statement by Ayatollah Khamenei, who lashed out at certain Arab states for committing the "biggest treachery" against Arabs and Muslims in history by supporting Israel.
"The betraying Arab govts should know the US is not trustworthy. The US looks at them as tools for protecting the Zionist regime," reads a line on the cartoon.
The US president presided over the signing ceremony of the normalization agreements between Israel, the United Arab Emirates (UAE) and Bahrain at the White House on Tuesday.
However, Palestinians and other Muslim states rejected the peace treaties with Israel, as a betrayal of the Palestinian cause against the Israeli occupation.