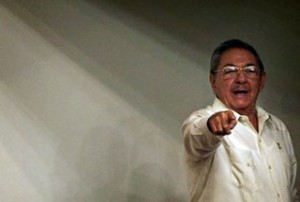 Cuba's President Raul Castro says his government will not yield to pressure from dissident hunger strikers, denouncing the actions as blackmail organized by Europe and the United States.
"We will never cede to blackmail, from any country or group of countries, no matter how powerful they may be, whatever happens. We have the right to defend ourselves," Castro said, referring to a hunger-striking dissident's call for the release of all "political prisoners."
"If those countries try to corner us, they should know that we will hold ourselves up, above all, based on truth and on principles," he said during the closing ceremony of the Union of Young Communists congress in Havana on Sunday.
The Cuban president charged the United States and Europe with waging "an unprecedented publicity war" against Havana with the support of "major western media."
Castro was referring to the uproar by Western media outlets over the case of dissident Guillermo Farinas, 48, who has been on a hunger strike for the past month.
He decided to go on a full hunger strike when he learned of the death in late February of Orlando Zapata, who had been on a similar strike for 85 days for better prison conditions.
In his Sunday remarks, Castro underlined that the detainee's fate was in his own hands.
He also rejected allegations that Zapata was a political prisoner, saying he was a common criminal whose imprisonment was manipulated by foreign countries for political gain.