Palestine
Middle East
Resistance Axix
Casualties as Zionist Occupation Brutally Attacks Palestinians in Al-Aqsa (updated)
Tensions were high in Al-Aqsa for the third consecutive day as Israeli occupation forces, along with Zionist settlers, brutally attacked Palestinian worshipers at the holy compound.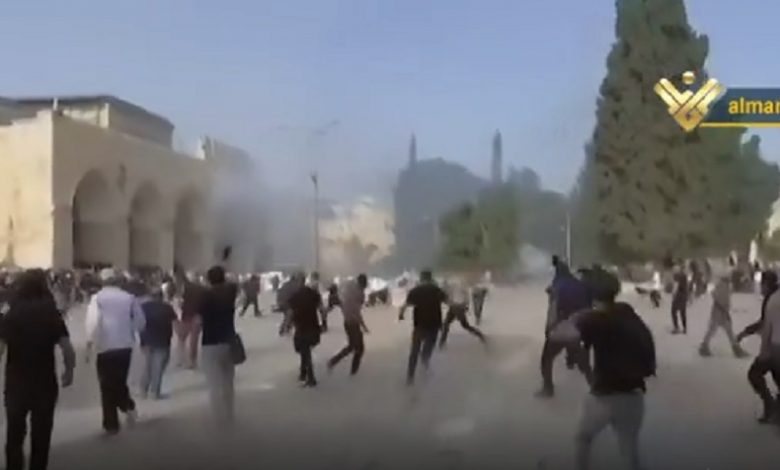 Palestinian sources reported that the occupation police stormed Al-Aqsa on Sunday morning and brutally attacked Palestinian worshipers barricaded in Al-Aqsa courtyards, forcing them to evacuate the courtyard and to stay in the mosques of the compound.
The Israeli move was aimed at securing the entrance of Zionist settlers to the holy compound on the Passover Jewish holiday.
"Occupation police attacked women and elders barricaded in Al-Aqsa, forced them to enter the mosques and closed the doors of the mosques. The occupation police also attacked Al-Aqsa guards and forced them to leave their points," Palestine Today quoted witnesses as saying.
The Palestinian Red Crescent said that at least 17 Palestinians were wounded by Israeli fire, noting that eight of the injured were transferred to hospitals and that three of them were in critical condition.
Dozens of Zionist settlers then got into Al-Aqsa and performed Jewish prayers at Al-Aqsa in a move seen as highly provocative for the Palestinian people.
The attack lasted for more than four hours, Palestinian media reported, adding that occupation forces withdrew from the holy compound at noon after failing to get the Palestinian worshipers out of Al-Aqsa.
Earlier on Friday, occupation police attacked Al-Aqsa Mosque amid calls by Jewish settlers to perform the so-called 'animal sacrifice' at the holy compound, sparking fierce clashes with Palestinian worshipers.
More than 150 Palestinians were injured by Israeli fire, rubber bullets, stun grenades and tear gas, while other 450 were arrested by occupation police.