Palestine
Casualties during clashes in West Bank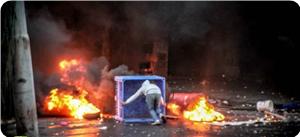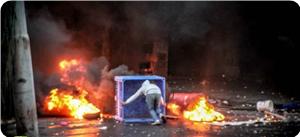 More than fifteen Palestinians were injured during overnight clashes with Israeli occupation forces (IOF) in al-Khalil and Salfit in the West Bank.
Eyewitnesses told the PIC reporter that violent clashes broke out near Halhul Bridge northern al-Khalil. Five youths were injured with live and rubber bullets during the clashes while dozens suffered breathing problems after inhaling tear gas.
Similar clashes erupted in Yatta town, where Palestinian youths threw stones and empty bottles at Israeli soldiers. Ten injuries were reported.
Fawar refugee camp has also witnessed violent clashes at dawn Sunday between hundreds of Palestinians and Israeli soldiers who intensively fired live and rubber bullets and tear gas bombs.
In Aroub refugee camp, clashes erupted when Israeli forces broke into the camp's neighborhoods and homes in an attempt to arrest youths who participated in earlier clashes following the killing of Eid Fedhlet by Israeli gunfire near his home.
In Salfit, violent clashes broke out at dawn Sunday between Palestinian youths and IOF soldiers who raided the city and arrested a young man after being brutally beaten and attacked. Dozens of injuries were reported among the youths.
Similar clashes were also reported in Qarawat Bani Hassan, Badia, and Sarta towns in Salfit near a settler bypass road.
On the other hand, local sources said that Israeli armed settlers had gathered at the entrance to Beit Ummar and Seir towns, northern al-Khalil, under IOF protection.
Meanwhile, violent clashes were reported on Saturday in occupied Jerusalem between Israeli forces and angry Jerusalemite youths who were protesting the Israeli continued crimes against the people of Gaza.
Local sources revealed that the clashes broke out in Issawiya, Silwan, Beit Hanina, and Shufat refugee camp in occupied Jerusalem in protest against Israeli aggression on Gaza.
In the same context, Hamas Movement mourned the nine martyrs killed in the West Bank protests at the hands of Israeli soldiers during the past two days.
In its statement, the Movement hailed the Palestinian people in the West Bank who revolted against Israeli crimes in Gaza Strip.
The statement said that West Bank protests reflect the Palestinian people's unity and cohesion in face of Israeli crimes and massacres.
The statement called for more popular escalation throughout the West Bank to exert more pressure on the Israeli occupation authorities, hailing the resistance's attacks on Israeli soldiers during the West Bank clashes.
Violent clashes broke out since Thursday throughout the West Bank, occupied Jerusalem, and 1948 occupied Palestine in protest at Israeli aggression in Gaza. Nine youths were killed while more than 500 others were injured during the clashes.