Iran
Middle East
Certain Western states incite violence, terrorism in Iran: Foreign minister
Iran's Foreign Minister Hossein Amir-Abdollahian has once again decried Western double standards regarding human rights and women as well as interference in the domestic affairs of the Islamic Republic, saying those actions have provoked violence and terrorism in the country.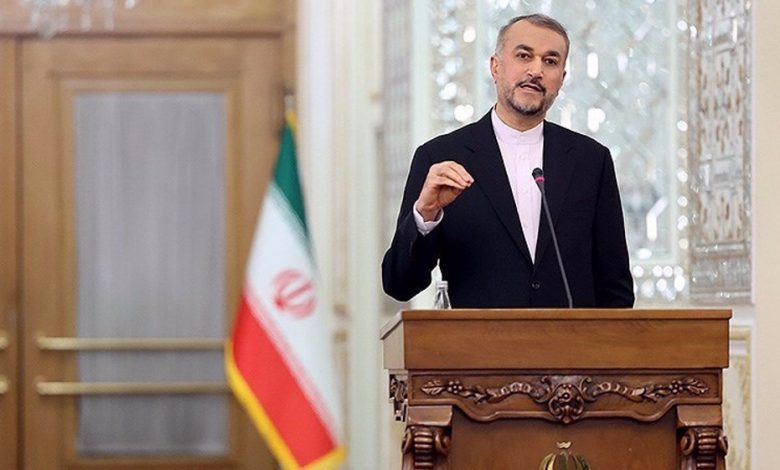 Amir-Abdollahian made the remarks in a phone call with Dutch Deputy Prime Minister and Minister of Foreign Affairs Wopke Hoekstra on Friday, referring to the riots across the country following the death of a young Iranian woman in police custody in September.
Efforts by certain Western officials and circles, the Iranian minister said, to incite the Iranian youth and women and the instrumental use of the media are diplomatically "unconstructive."
The Iranian foreign minister said rioters and perpetrators of the acts of terror and those who used weapons against the police forces would undoubtedly face justice in accordance with the judicial law of the Islamic Republic.
Protests broke out in several Iranian cities after the September 16 death of 22-year-old Mahsa Amini, who died at hospital three days after she collapsed at a police station in Tehran. An investigation attributed her death to her medical condition, dismissing allegations that she had been beaten by police forces. Despite Iranian officials' clarification on the circumstances surrounding her death, violent street protests ensued, culminating in attacks on security officers and acts of vandalism against public property and sanctities.
The Islamic Republic has strongly censured certain countries, topped by the United States and its Western allies, for provoking the riots through their spy agencies and propaganda apparatuses. London, in particular, hosts several anti-Iran networks, including Iran International, Manoto, and BBC Persian.
In a Monday statement, Iran's Islamic Revolution Guards Corps (IRGC) commended the judiciary for its firm treatment of a number of rioters affiliated with the Israeli spy agency, saying no mercy will be shown to rioters, thugs and terrorists serving the country's enemies.
Meanwhile, in a tweet on Friday, Amir-Abdollahian singled out Germany's "hypocritical and duplicitous" stance on the circumstances in Iran. He said fighting terrorism, violence and hate speech are clear international responsibilities, adding Germany considers such scourges as red lines for itself but incites the same sinister phenomena in Iran and denounces Tehran's legitimate campaign against them.
Speaking in a news conference in Berlin on Friday, a German government spokesperson called on Tehran to immediately end its 'violence' against protesters and confirmed Germany had summoned the Iranian ambassador to Berlin.
Britain and Canada have also slapped fresh sanctions on Iran over alleged human rights violations while the European Union is also reportedly set to impose more bans on the country.