Latin America
Chavez will be alive as long as struggle, justice exist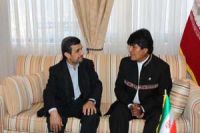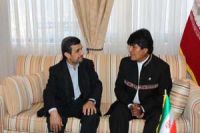 Iranian President Mahmood Ahmadinejad has said that Hugo Chavez, the late president of Venezuela, will be alive as long as struggle and justice exist.
According to IRNA, President Ahmadinejad in a meeting with Bolivian President Evo Morales in Caracas, capital of Venezuela, on Friday said that Chavez had a great personality with a revolutionary spirit, and now when he is not with us, it is a sad and hard moment.
He stressed that Chavez was a sincere and loyal friend for all nations, so his demise is very heartbreaking.
Ahmadinejad said, ˈWe have gathered here to put our hands together to move in direction of justice.ˈ
He said that although heads of imperialist powers might be pleased with lack of Chavez in the world politics, their happiness would end soon, when they find out that there are other great men to continue his way.
President Ahmadinejad said that Latin America is facing a development and nations of the region have awaken, and contrary to the past, dominance of imperialism has decreased in Latin American region and the number of revolutionary leaders in this region is increasing every day.
President Morales also described demise of Chavez as a sad moment and said that although he is not with us anymore, he would be alive in our hearts and spirits.
Evo Morales praised Iranian resistance against imperialism and added that Bolivia is standing by Iranians and wants to fight against imperialism together.