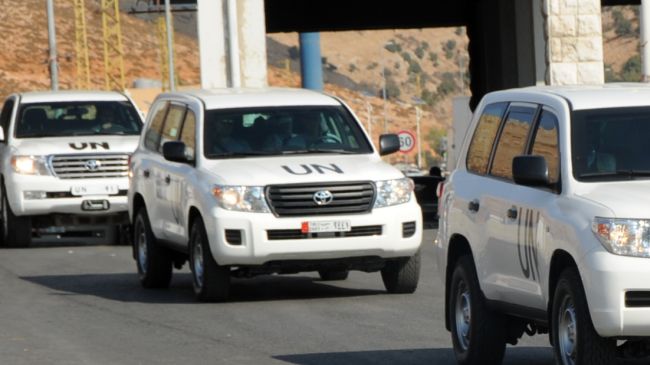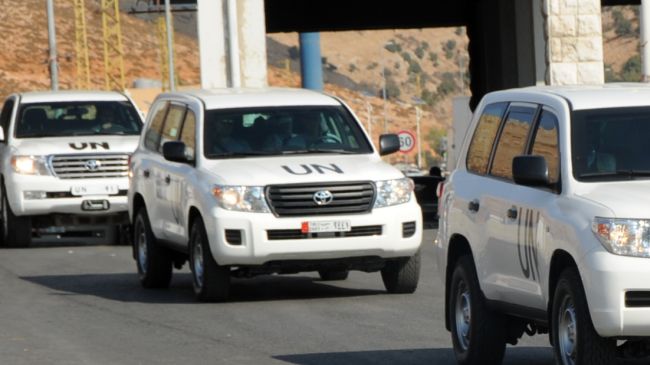 A team of international disarmament experts has arrived in Syria to begin destroying the country's chemical arsenal.
The team of 20 inspectors from the Organization for the Prohibition of Chemical Weapons (OPCW) crossed into the country from the neighboring Lebanon on Tuesday to implement a UN resolution that calls for the elimination of the Arab country's chemical weapons.
The Hague-based OPCW team is expected to arrive in the Syrian capital, Damascus, shortly.
Damascus has already supplied a list of its chemical weapons and facilities and is due to provide further details by October 4.
On September 27, the UN Security Council unanimously approved the resolution to avert a US-led military strike against Syria.
The resolution condemned the use of chemical weapons in the country and called for their elimination.
On September 14, Russia and the United States agreed on a deal under which Syria must account for its chemical weapons stockpiles within a week and see them eliminated by the middle of 2014. Syria has agreed to the deal.
Under the US-Russian deal, the OPCW team should finish the work by November. Some arsenals will be eliminated safely and destroyed outside Syria, while others will be destroyed inside the country.
The mission of the OPCW comes after a UN team of chemical weapons inspectors wrapped up its investigation into a deadly chemical attack near Damascus on August 21.
Washington threatened to take military action against Syria over an unsubstantiated claim that the Syrian government had been behind the August attack.
Syria strongly rejected the allegation, saying the attack had been carried out by the foreign-backed militants to draw in military intervention.