Iran
Middle East
North America
Chief Commander Warns of Crushing Response to Enemies' Miscalculation
Chief of Staff of the Iranian Armed Forces Major General Mohammad Hossein Baqeri underscored his forces' high deterrence power, warning that any miscalculation by enemies will be receive a crushing response from the side of Tehran.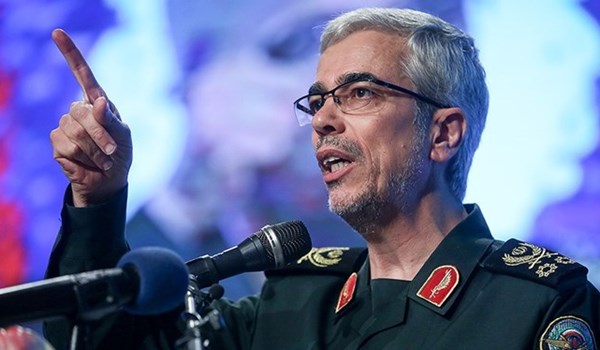 "The Iranian Armed Forces will not, for a moment, neglect the new seditions and ill-wished tricks against this homeland and will respond decisively and promptly to any kind of miscalculation by the enemies," General Baqeri said on Monday in a message on the threshold of the 31st demise anniversary of Imam Khomeini, the late founder of the Islamic Republic.
"The brave Iranian soldiers in the Army, the IRGC, the police, the Ministry of Defense and the Basij will once again renew their long-standing allegiance to Imam Khomeini and Imam Khamenei and the great martyrs of the Islamic Republic and will always protect the country's territorial integrity, national security, and progress," he said.
"In pursuit of the guidlines and instructions of the Commander-in-Chief on the strategy of increasing deterrence power, we will make every effort to strengthen our defense capabilities, and update or offensive tactics proportionate to modern threats," General Baqeri said, adding, "And we will not hesitate even for a moment to nip the enemies' plots in the bud."
"As we have repeatedly said, we will show a crushing response to any enemy miscalculation at any time and in any place," he stressed.
In relevant remarks in April, General Baqeri had warned adventurers against taking any wrong move, saying that the enemies' devilish plots are doomed to failure.
"We will not permit any wrong thing to be made by adventurers and greedy people against this country," Baqeri said in a message marking Army Day.
"The brilliant role of the devoted Army in making up defense and deterrence capacities signifies a steady and scholarly struggle associated with divine faith and valor to step in sophisticated arenas of defense technologies," he said.
The top commander hailed the Army's stunning achievements in all fields, adding that it has played a crucial role in containing the coronavirus disease.