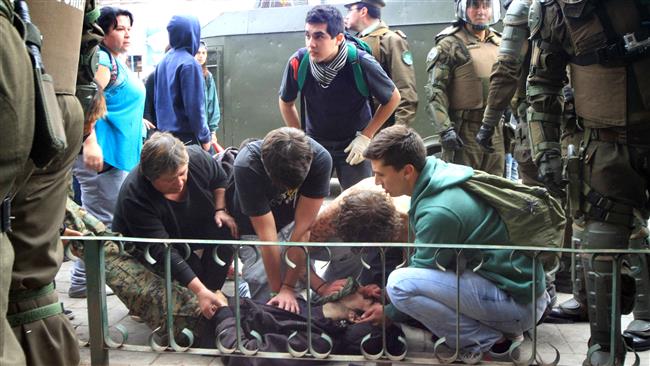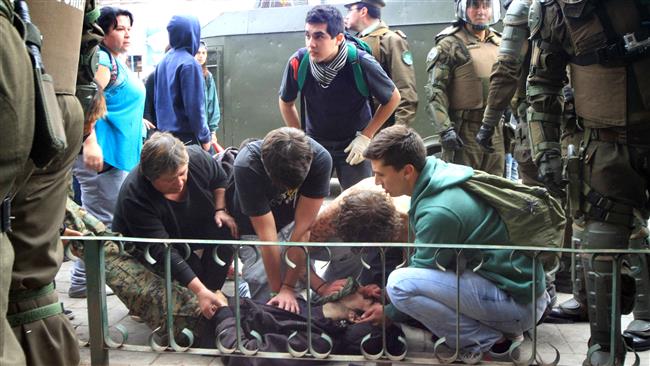 In Chile, at least two students have been killed in violence during nationwide protests against the country's education policies.
Reports said the victims, aged 18 and 24, lost their lives during the National March for Education in the Chilean port city of Valparaiso on Thursday.
The two were killed after a 22-year-old man opened fire as demonstrators attempted to stick posters on the walls of his house.
The protests, organized by the Confederation of Chilean Students, turned violent in the capital, Santiago, as police used water cannon and tear gas to break up crowds of demonstrators.
Officials say students also threw Molotov cocktails at police forces.
Protest organizers say some 150,000 people joined the demonstrations in the capital.
Similar demonstrations were also held in the city of Concepcion.
For decades, students have been demanding greater participation in overhauling a largely privatized and highly unequal education system put in place during the dictatorship of Chile's late Augusto Pinochet's rule in 1973-1990.
However, since 2011, protesters have been holding mass demonstrations, calling upon Chilean President Michelle Bachelet to implement education reforms to increase the salaries of teachers and gradually introduce free university education.
Last October, the lower house of Chile's parliament approved a bill to stop schools that receive public money from making profit. The controversial bill was passed into law on January 26.
President Bachelet has recently come under growing pressure after winning reelection late 2013, with promises to undertake reforms, including free university education for the country's poor.
In Chile, public universities cost thousands of dollars per year, making higher education difficult for most people to afford.