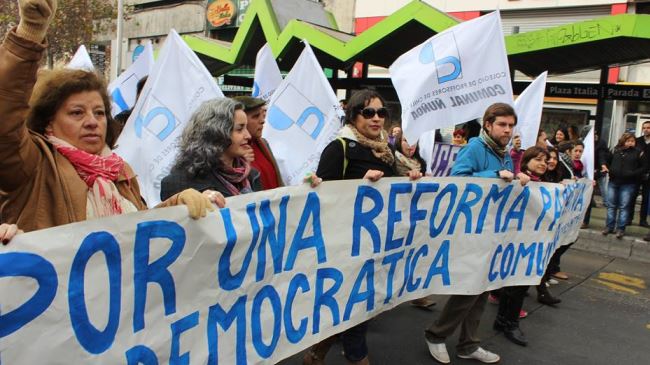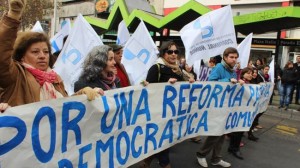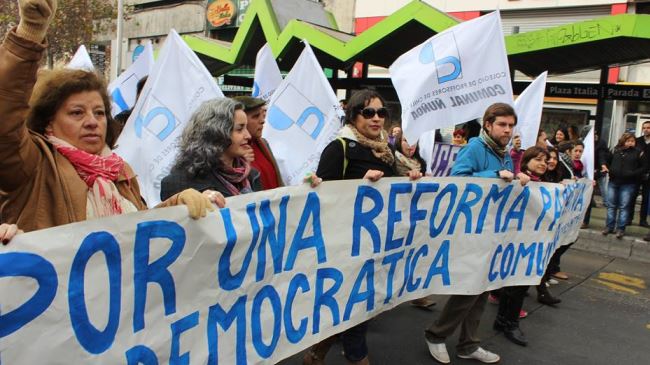 Police in Chile have clashed with protesting students and teachers in the country's capital of Santiago during another mass demonstration over the country's education system.
Chilean security forces used tear gas and water cannon during the Wednesday rally to disperse rock-throwing protesters, who were calling for an overhaul of Chile's educational system.
An estimated 50,000 protesters further called on Chilean President Michelle Bachelet to fulfill her campaign pledges for better and free education.
The striking teachers are asking for better retirement benefits, improved classroom conditions and more inclusion in the country's education reforms.
"Chilean education is at the peak of its crisis and we hope… – with all the different movements regarding education – to achieve real education reform for us dignified and quality teachers," said a protesting teacher.
Members of the Chilean teacher's union had joined the Chilean Student Confederation (Confech) and the Coordinating Assembly of Secondary Students (ACES) to march in cities across the country.
The teacher's union has called for more involvement in drafting the government's policy on hot-button issues such as copayment and selection process in schools.
Meanwhile, many students took to the streets to join the march. They have also been demanding reforms in the privatized education system, which was established under ex-dictator Augusto Pinochet. The previous administration of conservative Sebastian Pinera was blighted by dozens of angry and sometimes violent protests by students demanding that changes be made to the privatized education system.
On May 19, Bachelet announced the first part of her education reform plan. It would end state-subsidies for for-profit schools and instead give increased subsidies to non-profit educational institutions. For-profit schools will have 2 years to switch to non-profit status or lose their state subsidies. The new reform also would prohibit primary schools and kindergartens from rejecting students based on exams or interviews.