Asia-Pacific
China
Economy
North America
China FM calls on US to stop 'arbitrary suppression' of Chinese firms
China has censured unilateral US sanctions against Beijing and called on Washington to halt "arbitrary suppression" of the country's companies.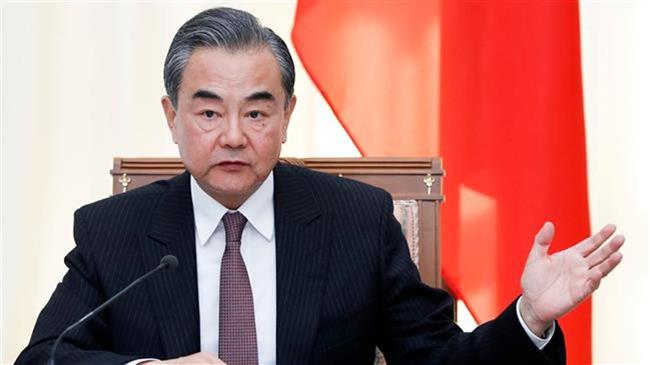 Chinese State Councilor and Foreign Minister Wang Yi said on Friday that the United States should choose dialogue and consultation with China instead of pursuing "unacceptable" unilateral sanctions against Chinese firms.
"We need to replace sanctions with dialogue and consultation," he said, adding that unilateral sanctions had become the "biggest destabilizing factor to regional and global security."
Wang also urged Washington to stop "overstretching the notion of national security," and "arbitrary suppression of Chinese companies."
The top diplomat vehemently rejected allegations that Beijing is endangering the US' national security, saying, "China is not a threat to the United States – was not, is not and will not be a threat."
Wang also pointed to the state of Sino-US relations, which has been at their lowest ebb since the establishment of full diplomatic ties in 1979, and called for the US' policy toward China to "return to objectivity and sensibility as early as possible."
Tensions between Washington and Beijing have escalated over the past year as the world's top two economies sparred over Beijing's handling of the coronavirus outbreak, imposition of a national security law in Hong Kong and rising tensions in the South China Sea.
Washington, in its latest move to pressure China, added on Friday dozens of Chinese companies, including the country's top chipmaker SMIC and Chinese drone manufacturer SZ DJI Technology Co Ltd, to a trade blacklist.
The US Commerce Department claimed that the measure "stems from China's military-civil fusion doctrine and evidence of activities between SMIC and entities of concern in the Chinese military industrial complex."
The White House also announced that President Donald Trump had signed legislation that would kick Chinese companies off US stock exchanges unless they adhere to American auditing standards. The move was dismissed by Chinese officials as a "discriminatory" policy meant to politically oppresses Chinese firms.
"The United States will use all countermeasures available, including actions to prevent (Chinese) companies and institutions from exploiting US goods and technologies for malign purposes," Secretary of State Mike Pompeo said in a separate release.
China's foreign ministry responded to Pompeo's accusations and said the blacklisting would be evidence of US oppression of Chinese companies and that Beijing would continue to take "necessary measures" to protect their rights.