Syria
China: Political Solution Only Pragmatic Option in Syria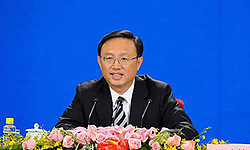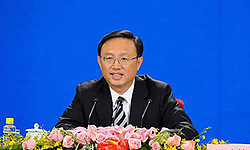 Chinese Foreign Minister Yang Jiechi on Wednesday presented Beijing's new four-point proposals on a political resolution to the Syrian conflict, urging all parties in Syria to cease fire and violence.
Yang made the proposals during his talks with UN-Arab League Joint Special Envoy Lakhdar Brahimi, who is visiting China for the first time since replacing former UN chief Kofi Annan as the international mediator on Syria on Sept 1, Xinhua reported.
The situation in Syria is at a crucial stage, and is important to the fundamental interests of the Syrian people as well as peace and stability in the Middle East, Yang said, adding, "A political resolution is the only pragmatic option in Syria."
The future of the Middle Eastern country should be determined by the Syrian people themselves, and its sovereignty, independence, unity and territorial integrity should be respected and preserved, according to Yang.
He called on the international community to spare no efforts to collaborate with and support diplomatic mediation, while enhancing humanitarian assistance to Syria.
Yang said the Chinese government attaches great importance to Syrian mediation, and expressed appreciation for Brahimi's active role in the area.
China has always supported the diplomatic mediation efforts of Brahimi and former envoy Kofi Annan, and is willing to work with the international community to make continuous efforts to achieve a "fair, peaceful and appropriate" resolution, Yang said.
Brahimi introduced the latest developments in Syria and his recent mediation efforts, especially his visit to the country itself and related nations. He said political resolution is the only feasible approach to the complicated and sensitive situation in Syria and all parties involved should cease fire and violence so as to create conditions for a political resolution.
Brahimi thanked China for its firm support for his mediation. He also expressed appreciation for Chinese efforts toward a political resolution in Syria, as well as his hope that China will continue to play a positive and constructive role in this regard.