China
Economy
North America
China says US aims to hamper its progress using 'fabricated' claims of forced tech transfer
China has denounced as "fabricated" US accusations that the country forces American firms to hand over technology in exchange for market access, also stressing that Beijing would not resume negotiations to end the ongoing trade war between the two countries unless Washington shows "sincerity."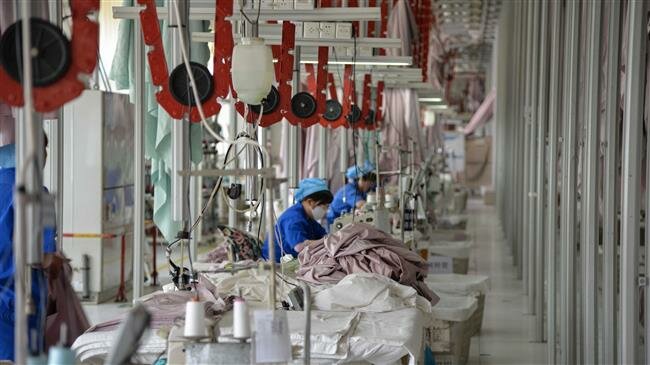 The Communist Party's People's Daily said in an editorial on Saturday China had never forced US companies to hand over technology and that the claim was "an old-fashioned argument used by some people in the United States to suppress China's development."
"The US argument about the 'forced transfer of technology' can be described as being fabricated from thin air," the paper said, adding that Washington had not yet been able to provide any evidence to back up the claims.
The People's Daily said the United States benefited substantially from voluntary technological cooperation, earning $7.96 billion in intellectual property use fees in 2016 alone.
The paper argued that Washington's "fragile nerves" were caused by China's own rapidly growing research and development capabilities.
The comments were made as the protracted trade dispute between the world's top two economies has rattled investors and roiled global markets.
Beijing announced this week it would retaliate against a move by Washington to raise tariffs on $200 billion of Chinese imports. China has been accused by the administration in Washington of doing little to resolve US concerns about the theft of intellectual property and the forced transfer of technology to Chinese firms.
Tensions worsened this week after the Trump administration added China's Huawei to a trade blacklist, immediately enacting restrictions that will make it extremely difficult for the telecom giant to do business with US companies.
The order puts Huawei and 68 affiliates in more than two dozen countries on the blacklist. That bans the company from buying parts and components from American firms without US government approval.
Last week, China and the US concluded the 11th round of high-level economic and trade consultations between the two sides in Washington, without reaching any deal aimed at ending their trade tensions.
The talks broke down after Chinese representatives reportedly backtracked on promises to address issues like theft of intellectual property, after which the US announced an increase of Chinese tariffs from 10 percent to 25 percent on $200 billion worth of Chinese imports.
China urges 'sincerity'
The United States had said earlier that negotiations were likely to restart soon but China said Friday that resuming bilateral trade talks would have no meaning unless Washington changed course and showed "sincerity."
Asked about state media reports suggesting there would be no more trade negotiations between the two sides, Chinese Foreign Ministry spokesman Lu Kang told a daily news briefing in the capital Beijing that China always encouraged resolving disputes with the United States through dialogue and consultations.
"But because of certain things the US side has done during the previous China-US trade consultations, we believe if there is meaning for these talks, there must be a show of sincerity," Lu said.
Sources familiar with the issue said the trade talks had stalled and the next round of negotiations between the two countries was "in flux."
The People's Daily published on Friday a front-page commentary that China is as "firm as a boulder" in protecting its national interests and dignity in the face of Washington's trade war.
"The trade war can't bring China down. It will only harden us to grow stronger," it said.
China says trade war will strengthen it, weaken USChina's top newspaper says an escalating US trade war will never bring the Asian power to its knees, but will make it stronger.
The Washington-Beijing trade dispute escalated earlier this month, when the US increased tariffs on $200 billion worth of Chinese goods after the administration of US President Donald Trump accused Beijing of "breaking the deal" by reneging on earlier commitments made during months of talks.
Trump also ordered US Trade Representative Robert Lighthizer to begin imposing tariffs on all remaining imports from China, a move that would affect about an additional $300 billion worth of goods.
Trump has urged China to either sign the deal now or it will be forced to sign a far worse agreement in future.