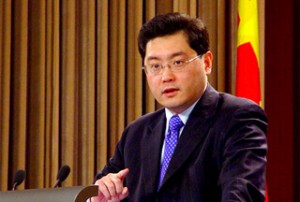 As Western powers mount pressure on Iran over its nuclear activities, China says it still advocates talks as the best possible means of solving the issue.
Foreign Ministry Spokesman Qin Gang said on Tuesday that China advocates resolving Iran's nuclear issue through dialogue and negotiations and called on all sides involved to double "diplomatic efforts" to resolve the issue.
The International Atomic Energy Agency (IAEA) on Friday passed a new resolution against Iran over the construction of its Fordo enrichment plant, located outside Tehran.
The resolution, which was drafted by the P5+1, the five permanent members of the UN Security Council plus Germany, calls on Iran to immediately halt construction of its second enrichment facility.
Malaysia, Venezuela and Cuba voted against the resolution; but Russia and China voted in favor of it. The move was surprising considering the fact that those two veto-wielding powers have repeatedly supported a peaceful solution to Iran's nuclear issue.
The resolution was passed after the latest IAEA report confirmed the non-diversion of declared nuclear material in Iran's first nuclear plant in Natanz. It also said that Iran had allowed the agency to carry out a full inspection of its under-construction uranium enrichment facility.
IAEA inspectors have visited the Fordo enrichment facility twice and — according to IAEA Director-General Mohamed ElBaradei — found "nothing to worry about."
Iran has dismissed the resolution as a "politically motivated" move that could introduce tension to the "spirit of cooperation."
Tehran has also warned that attempts aimed at denying Iran its nuclear rights could reduce the country's cooperation to "a legally mandated minimum," which means it would not venture beyond its legal obligation.
In response to the resolution, the Iranian government also announced on Sunday that it was set to build ten new enrichment plants.
Iran's announcement drew criticism from the US, Britain, France and Israel, with British Prime Minister Gordon Brown's spokesman going as far as to threaten Iran with new sanctions if talks fail to resolve the dispute over the construction of more uranium enrichment plans.
According to Head of the Atomic Energy Organization of Iran Ali-Akbar Salehi, Tehran had originally had no plans to construct more sites but the new resolution triggered the response from the Iranian government.
"The West adopted an attitude toward Iran which made the Iranian government to pass the ratification on construction of ten sites similar to the Natanz enrichment facility," Salehi said.
Iran has asserted, however, that despite the pressure over its nuclear work, it will not pull out of the NPT and will remain a signatory to the treaty.