Asia-Pacific
China
China virus toll rises; foreign states trying to evacuate nationals from epicenter Wuhan
The death toll from the outbreak of a new coronavirus in China has surpassed 80, with authorities in Beijing warning that the mysterious virus is "getting stronger" despite unprecedented quarantine measures and travel lockdowns.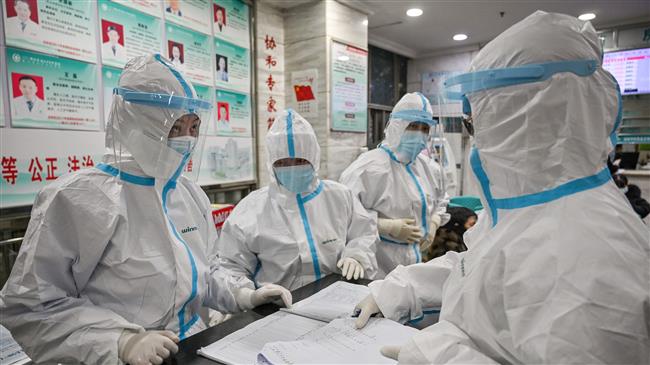 Two dozen new deaths reported in Hubei Province — the heart of the outbreak — and another in the southern island province of Hainan on Sunday, bringing the overall death toll to 81.
Confirmed infections also swelled to more than 2,700 across China.
According to report from the 30 provinces, "the number of infected is 2,744, critically ill is 461," said the National Health Commission (NHC)'s spokesperson, Song Suli.
"The number of people discharged from hospital and cured is 51, while there are 5,794 suspected cases and 32,799 people who were in close contact with the infected," the spokesperson added.
The never-before-seen virus — first reported in the central city of Wuhan, with a population of 11 million people — is transmissible before symptoms even appear, according to the NHC's minister, Ma Xiaowei.
"According to recent clinical information, the virus' ability to spread seems to be getting somewhat stronger," Ma said.
Speaking at a press conference on Sunday, Ma said the period between exposure to the virus and the appearance of first symptoms could range from one to 14 days.
Ma said that "the rate of development of the epidemic is accelerating," warning that the outbreak "will continue for some time, and the number of cases may increase."
Among the symptoms of the disease are nasal congestion, headache, cough, sore throat, and a fever, according to infectious disease expert and University of California San Francisco professor Charles Chiu.
There are no tests designed to detect this exact coronavirus strain, according to Chiu, who said the virus belongs to the family of viruses that cause common colds.
This is happening despite intensified efforts across China to contain the spread of the dangerous disease. Chinese authorities have put Wuhan under a lockdown, and impose sever curbs on movement in place in several other cities.
In Shanghai, Chinese government have sprayed residential areas with disinfectants to curb the spread of the virus.
The measures, however, have failed to prevent the fast-moving virus — believed to have originated in a seafood and poultry market in Wuhan — from crossing the Chinese border.
China premier in virus epicenter
On Monday, Premier Li Keqiang became the most senior Chinese leader to visit Wuhan since the city was struck by the epidemic. Wearing a mask and blue plastic scrubs, Li was in Wuhan to "investigate and guide" ongoing efforts to curb the virus in the city of 11 million people, said China's State Council said on its official social media account.
The State Council, China's cabinet, said Li would meet with patients and medical staff on the frontline, he added.
Beijing is scrambling two hospitals in Wuhan. The state-run People's Daily reported Saturday that a 1,300-bed makeshift hospital in Wuhan will be built in the next 15 days in addition to the first 1,000-bed hospital being built in the city.
Outside China
Many people have so far been diagnosed with the infection across the world, including in the South Asian nations — Singapore, South Korea, Japan, Thailand, Malaysia, Vietnam and Nepal— and other countries including Canada, Australia, France and the United States.
Australia confirmed on Monday its fifth case of the disease. According to health officials, the patient is a 21-year-old woman who was on the last flight out of Wuhan to Sydney before China imposed the travel ban.
The other four cases were confirmed on Saturday, with one in Melbourne and three in Sydney.
Australian officials are now working with Chinese authorities to evacuate about 100 Australian children and young people out of Wuhan.
We are working on a number of fronts, firstly to make sure … that there is support for those Australians and we are also working on, as are other countries, to try to secure their ability to return to Australia," said Health Minister Greg Hunt.
The United States has also detected five cases as of Sunday, according to the Centers for Disease Control and Prevention.
The US is arranging a flight to evacuate its diplomats and some citizens from Wuhan on Tuesday.
The flight will leave Wuhan and take people to San Francisco, the State Department said in an email to Americans in China.
"This capacity is extremely limited and if there is insufficient ability to transport everyone who expresses interest, priority will be given to individuals at greater risk from coronavirus," it added.
France is also planning to evacuate its citizens from Wuhan and quarantine them, according to the French government.
French automaker PSA Peugeot Citroen that has a factory in Wuhan is also moving its foreign employees and their families by bus to be quarantined in another city.
Global markets tumble
The virus seems to be affecting global markets as concerns are growing among investors over the scope of the outbreak across the world.
While gold prices rose on Monday, oil prices declined during Asian trading hours on Monday.
"Media wins — all you see is headlines about the coronavirus, giving investors a reason to sell the markets," said Takeo Kamai, head of executions services at CLSA in Tokyo.
Meanwhile, China's currency yuan fell in offshore trade to its lowest level in three weeks on Monday.
There are concerns that such asymptomatic transmissions could impact tourism and consumer spending as well.
"There is a lot of uncertainty about how much further the virus will spread, and this is behind the moves in currencies," said Yukio Ishizuki, foreign exchange strategist at Daiwa Securities in Tokyo.
US S&P 500 mini futures were last down 1.0 percent, having fallen 1.3% in early Asian trade, The Associated Press reported.
European shares were also expected to follow suit, with major European stock futures trading 1.2-1.4 percent lower.
Traders, however, say the market moves could be exaggerated because financial markets in China, Hong Kong, Singapore, and Australia are already closed due to the Lunar New Year holidays.
Singapore also said on Monday that the coronavirus outbreak will hurt its economy this year, as it announced new measures to tackle the disease.
The Southeast Asian travel and tourism hub, which recorded its lowest growth rate in a decade last year at 0.7%, has reported four cases of the coronavirus.
"We certainly expect there to be an impact on our economy, business and consumer confidence this year especially as the situation is expected to persist for some time," trade minister Chan Chun Sing said.
China's cabinet announced it will extend the holidays to February 2 to strengthen the prevention and control of the viral outbreak.
Meanwhile, some infectious disease experts warned that failure to stop the outbreak of could see the virus spread in a sustained way around the world and even perhaps join the ranks of respiratory viruses that regularly infect people.