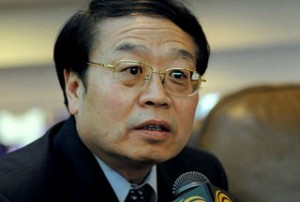 Chinese Foreign Ministry spokeswoman Jiang Yu has reiterated that there is still room for discussions to overcome issues around Iran's nuclear energy program.
"We have always believed that dialogue and negotiations are the best channels for resolving the Iran nuclear issue," Reuters quoted Jiang as saying.
Referring to the regular meetings of the five permanent members of the Security Council — Russia, China, France, the US and UK — plus Germany (P5+1), she added, "We have stated many times that the six countries launching the talks in New York does not mean that the door is shut to dialogue and negotiations."
The US and its Western allies accuse Iran of having military objectives in its nuclear program, an allegation fiercely rejected by Tehran as baseless and without merit.
While the US has been attempting to rally support for a fourth round of sanctions on Iran, Russia and China continue to advocate further negotiations to resolve the Iranian nuclear issue.
Last week, China's envoy at the UN headquarters in New York indicated displeasure at sanctions proposals affecting Iran's energy sector.