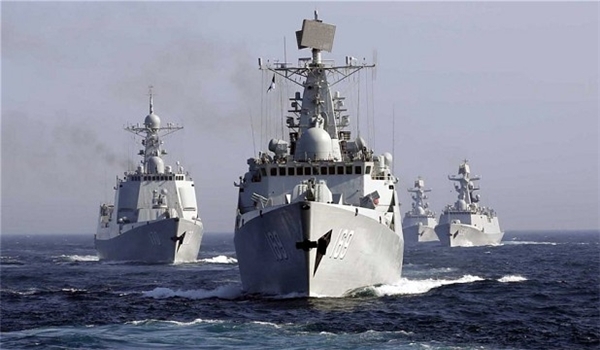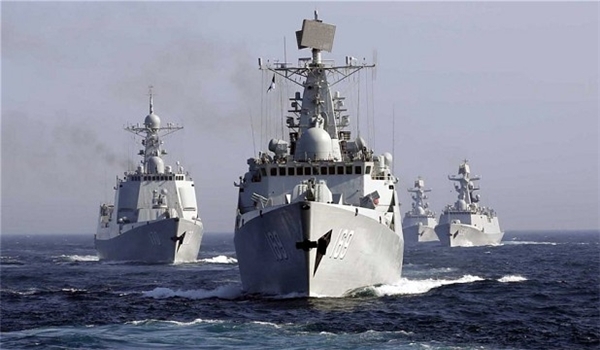 A detachment of China's fleet of warships docked in Iran's territorial waters in the Southern port city of Bandar Abbas on Saturday.
It is the first time that a Chinese flotilla has sailed and berthed in Iran's territorial waters.
An Iranian flotilla was in the Sea of China last year to deliver Iran's message of peace and friendship to the Chinese.
In May, 2013, the Iranian warships docked in Zhangjiagang after a 13,000-kilometer voyage in 40 days as part of their mission to convey Iran's message of peace and friendship to the East Asian states.
Iranian Navy Commander Rear Admiral Habibollah Sayyari said that presence in the Indian and Pacific oceans and the China Sea, patrolling Southeast Asia's strategic Strait of Malacca, crossing the Equator, docking at China's port city of Zhangjiagang port and identifying 370 surface and subsurface vessel units were among the important tasks carried out by the fleet.
The Iranian warships also docked in Sri Lanka after their successful mission in the Pacific Ocean and crossing the Equator.
The visit by the Chinese Navy ships also came a few days after the timely presence and action of the Iranian Navy's 31st Flotilla thwarted an attack by eight pirate speed boats, equipped with various light and semi-heavy weapons, on a Chinese container-carrier ship in the waters of the Gulf of Aden, and forced the pirates to flee the scene.
The Chinese ship was traveling en route from Singapore to Jeddah, Saudi Arabia, before it came under pirates' attack.
The Chinese ship continued its voyage after it was rescued by the Iranian Navy.
The 31st Fleet of the Iranian Navy, comprised of Bayandor destroyer and Bandar Abbas logistic warship, was dispatched to the Gulf of Aden and the high seas late July to protect the country's cargo ships and oil tankers against pirates.
The fleet of warships has escorted 670 military and cargo ships by now and has identified and traced trans-regional vessels and aircraft.
Iran's 30th flotilla of warships ended its mission in the Gulf of Aden and the Indian Ocean and returned home in July.
The Iranian Navy has been conducting anti-piracy patrols in the Gulf of Aden since November 2008, when Somali raiders hijacked the Iranian-chartered cargo ship, MV Delight, off the coast of Yemen.
According to UN Security Council resolutions, different countries can send their warships to the Gulf of Aden and coastal waters of Somalia against the pirates and even with prior notice to Somali government enter the territorial waters of that country in pursuit of Somali sea pirates.
The Gulf of Aden – which links the Indian Ocean with the Suez Canal and the Mediterranean Sea – is an important energy corridor, particularly because Persian Gulf oil is shipped to the West via the Suez Canal.