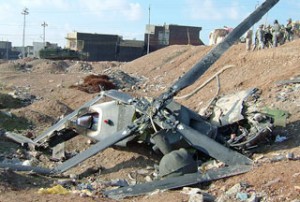 At least 13 US-led forces and Afghan soldiers have been injured in a helicopter crash in southern Afghanistan, according to officials.
Press TV's correspondent in Afghanistan reported on Monday that the crash occurred in Zabul province.
Nine international soldiers and four Afghan troops were among the injured, said deputy police chief Jilani Farah.
NATO also confirmed the incident, but failed to mention the cause of the accident.
Taliban spokesman Yousef Ahmadi claimed that the militant group targeted the helicopter and all those onboard were killed.
Last week, another NATO military helicopter carrying Turkish soldiers crashed on the outskirts of Wardak City. One soldier was killed and three others were injured.