Civilians block Kiev army's entrance near Ukraine's Slavyansk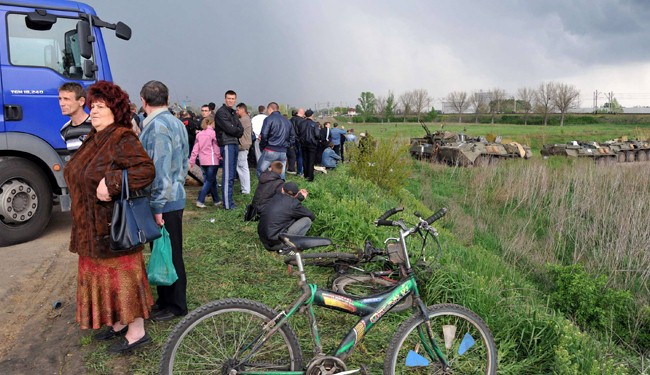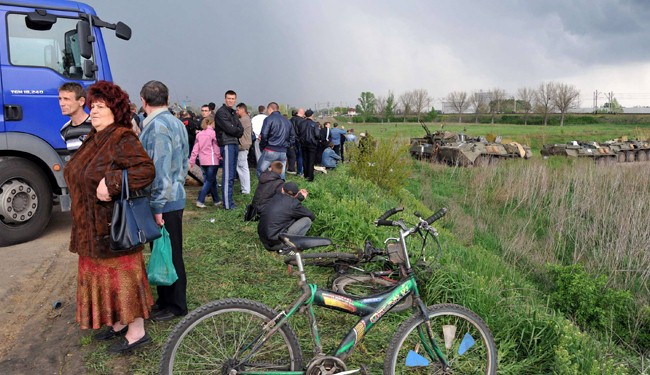 Civilians near Ukraine's Slavyansk have blocked Ukrainian armored vehicles and troops from entering the city amid a Kiev offensive on separatist protesters.
Local residents prevented the column from entering Slavyansk on Friday as the acting Kiev government deployed armed forces to the city's suburbs in a bid to retake the city.
The acting Kiev government launched the military offensive earlier on Friday, using armored vehicles, helicopters and tanks, but their advance towards the city has been limited.
According to Ukraine's Interior Ministry, the country's armed forces are now controlling at least nine Slavyansk checkpoints set up by the protesters.
However, the city of 130,000 residents is still mostly under the control of pro-Russian protesters.
Kiev also confirmed that pro-Russian gunmen shot down two army helicopters, killing two pilots. In addition, another pilot was injured and taken to hospital by the armed men.
This is while pro-Russian protesters near the city of Yasynuvata seized a rail control center for the Donetsk region.
Meanwhile, self-defense forces across Donetsk Province are preparing for more possible military actions by the interim government.
In addition, self-defense forces in Crimea said they are heading to southeastern regions to help the pro-Russian protesters against Ukrainian troops.
Over a dozen cities in eastern Ukraine are under the control of pro-Russian protesters, including Lugansk, Kramatorsk, Donetsk and Horlivka.
Pro-Russia protests gained momentum in Ukraine after Crimea declared independence from the former Soviet state and formally applied to become part of the Russian Federation following a referendum in March.