Middle East
Syria
Civilians Block Passage of US-Backed SDF's Oil Tankers through Eastern Euphrates
People prevented passage of oil tankers stolen by the Syrian Democratic Forces from Eastern Euphrates and seized their weapons amid intensified popular protests against the SDF in the region, the Arabic-language media outlets said.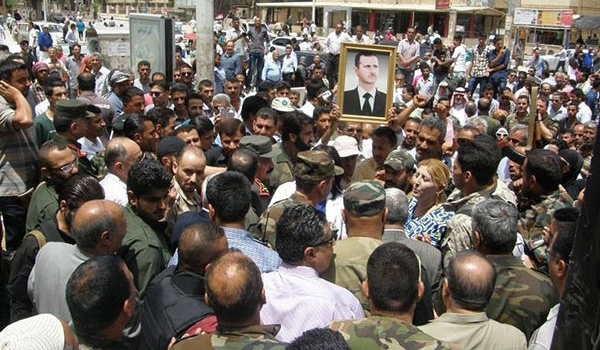 The residents of the town of al-Hassin launched popular protests against SDF in Eastern Deir Ezzur by blocking the roads to SDF's oil tankers destined to the Iraqi Kurdistan Region from Hasaka, the Arabic-language al-Youm reported.
Battlefield sources in Deir Ezzur, meantime, pointed to intensified popular anti-SDF protests in different towns and villages in Deir Ezzur province, and said civilians have taken control of SDF weapons by forcing them out of their military positions.
The SDF has dispatched its elite forces to Eastern Deir Ezzur to suppress popular protests and has fired at civilians to disperse them, while arresting tens of them.
In a relevant development on Saturday, the US-backed Kurdish militants received state-of-the-art weapons and military equipment, including Israeli arms in Eastern Euphrates, the Arabic-language media reports said.
The pro-militant Arabic-language Al-Khabor news agency quoted informed sources as saying that the US-led coalition has delivered new military and logistical supports through Simalka crossing to its allied Kurdish fighters in Eastern Syria.
It noted that the said military shipment included advanced missiles, US air defense systems, Israeli anti-Tank Spike missiles, shoulder-mounted surface-to-air Stinger missiles and drones.
The advanced weapons delivered to the Kurdish fighters were transferred to a clandestine depot near Ramilan Airbase in Hasaka province which is guarded by the US marine forces and Kurdish fighters.
In a relevant development last week, the media reports said that the US dispatched a large number of trucks packed with new military aids to the SDF in Eastern and Northeastern Syria.
A US military convoy comprising 30 trucks loaded with weapons, military and logistic equipment has arrived in Ain al-Arab Airport in Northeastern Aleppo, pro-militant al-Khabor news website reported.
Al-Khabor, meantime, said that the SDF has discharged four weapons depots in Tal Bidar, Ramilan, al-Shadadi and al-Malekieh in Hasaka province and sent their weapons to arms depots in Ra'as al-Ain in Northern Hasaka, Tal Abyaz in Northern Raqqa and Ain al-Arab in Aleppo as well as al-Amar energy zone in Eastern Deir Ezzur.
It noted that the Kurdish forces' move comes as part of their plan to confront an imminent military offensive by the Turkish Army and its allied militants in Eastern Euphrates.
The Turkish-language Anatoly news agency also reported that hundreds of trucks carrying US-made military equipment have been sent for the SDF-controlled areas in Deir Ezzur.
It also noted that a large number of weapons and military equipment have been sent to the US-controlled al-Omar oil zone which is now under the US control, adding that a large number of vehicles and drilling machinery have also been sent to SDF-controlled towns.
In a relevant development earlier this month, media reports revealed that Washington has dispatched new military aid to the SDF in Eastern Euphrates after declaring an end in the war on ISIL.