North America
Clash in NYC; riot in Portland as Trump launches lawsuits to stop vote counts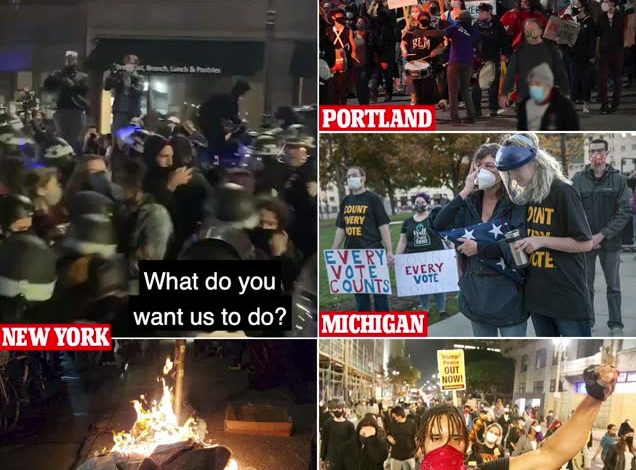 Clashes have erupted between US police and protesters in New York City amid a state of high anxiety across the nation over the winner of the nail-biter election.
Rallies held in New York City on Wednesday, with protesters chanting "Count The Vote" after President Donald Trump said he would file lawsuits to stop vote counts in several states where vote were underway.
The protests, however, turned violent in the evening in Lower Manhattan when demonstrators created carnage and set a fire in the street.
People were seen setting fire to a Joe Biden campaign sign, in a move that led to a round of applause and chants; "Burn the precinct to the ground."
Police intervened and the confrontations resulted in the arrests of at least 60 people, according to New York Police Department (NYPD).
It said on Twitter that those arrested "attempted to hijack a peaceful protest by lighting fires, throwing garbage and eggs in Manhattan."
Clashes also erupted when scores of officers, dressed in riot gear, were forcefully arresting people and struggling with others during the chaotic encounter.
"Move!" police officers shouted at the group, forcing them off the street as the protesters were shouting "Shame, shame, shame."