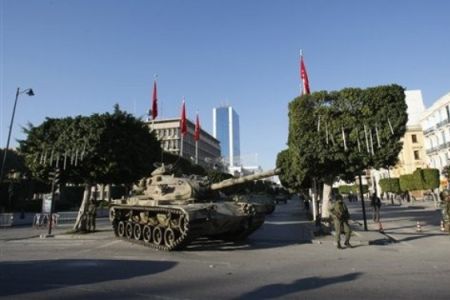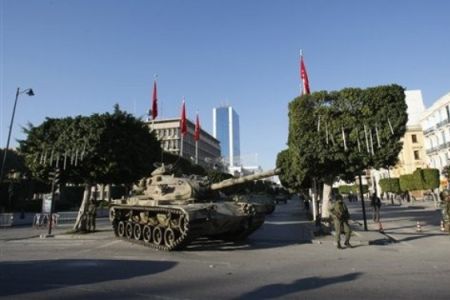 Two people have been killed in clashes between security forces and the army in Tunisia as the country is in turmoil after the revolution.
Tunisian military special forces exchanged fire with members of the deposed President Zine El Abidine Ben Ali's security forces near the presidential palace on the outskirts of the capital Tunis on Sunday evening.
The army has reportedly attacked the presidential palace, where supporters of the ousted president have been holed up. Remnants of the presidential guard have taken refuge in the palace.
Witnesses said that heavy and continuous gunshots are still being heard near the palace.
Tunisia's state news agency, TAP, reported that the former chief of presidential security, Ali Seriati, who was accused of conspiring against the country's security by fomenting violence, was arrested.
Interim President Foiued Mebazaa said efforts are under way to form a government of national unity while Tunisia's politicians are now discussing a presidential election to be held within two months under international supervision.
However, opposition leader Najib Chebbi, who leads the Democratic Progressive Party, says he believes the election could be held within the next six or seven months.
Prime Minister Mohammed Ghannouchi said that a new government may be announced on Monday.
The exiled head of the main Tunisian opposition party, Rached Ghannouchi, who has been living in London, said he plans to return home.
The unrest and violence that was kicked off about a month ago over high unemployment and poor social security put an end to Ben Ali's 23-year rule, which was marred by repeated human rights violations and torture.
The army has deployed troops in the streets of the capital to prevent violence. Security has been tight in the capital to counter any possible protest or looting attempts.