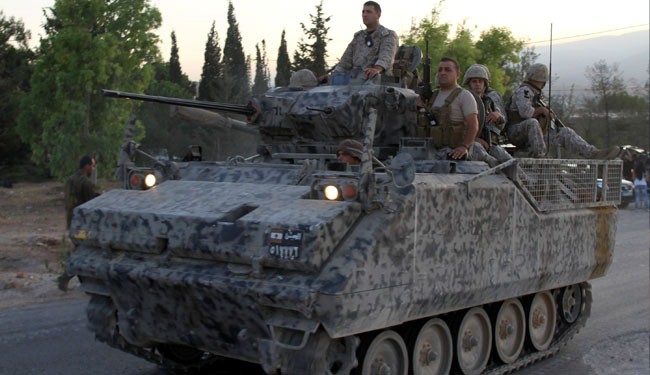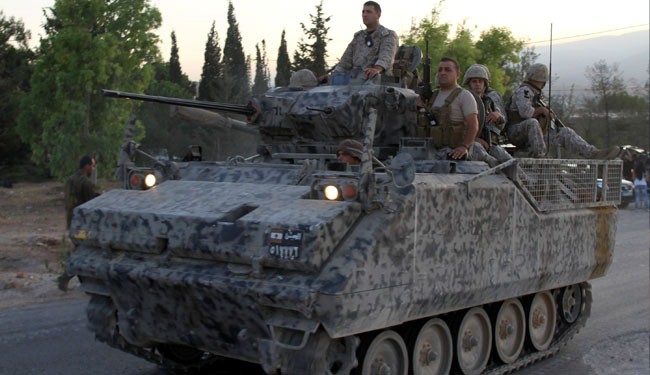 Militants killed four people in eastern Lebanon on Saturday, including two soldiers, after clashes erupted following the arrest of a senior commander of al-Nusra Front militant group.
The clashes prompted the Lebanese army to issue a statement pledging "decisive and firm" action to prevent the Syrian conflict from spilling over into Lebanon.
The violence began after troops detained Imad Ahmed Jumaain the Arsal region of eastern Lebanon by the Syrian border.
The army said in a statement that it had detained Jumaa at noon, and security sources and local residents said al-Nusra militants began to surround local army checkpoints shortly afterwards.
Exchanges of fire between the Takfiri militants and troops broke out, and the militants entered the town of Arsal, storming a police post and killing two residents who tried to block their attack, security sources and Lebanon's National News Agency (NNA) said.
NNA later said two Lebanese soldiers were killed in attacks on checkpoints, and the army acknowledged "deaths and injuries" among its ranks, but without giving further details.
In a statement, the army warned of the seriousness of the situation in Arsal, where support for the Takfiri militants across the border in Syria runs strong.
"The army will not allow any party to transfer the battle from Syria to its territory (Lebanon)," the statement said.
"The army will be decisive and firm in its response and will not remain silent as foreigners try to turn our land into a field for crime and terrorism, murder and kidnapping."
Lebanon's Prime Minister Tammam Salam, in a statement published on NNA, condemned the Arsal assault as a "flagrant attack on the Lebanese state and the Lebanese armed forces".
"The Lebanese government is dealing with these developments in a firm manner," he said, calling on "all political forces to exercise wisdom and responsibility and to make every effort to protect Lebanon and distance it from the dangers around it."
Syria's army has also launched regular air raids and shelled the area around Arsal, saying it is targeting rebels who have holed up in the mountainous region surrounding the border town.