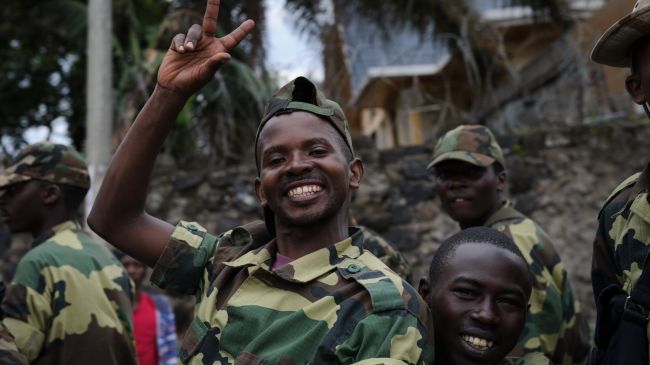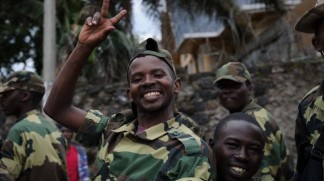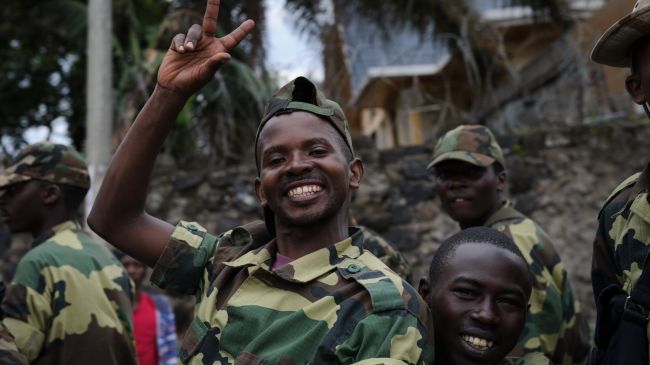 Clashes between the March 23 movement (M23) rebel forces and the Congolese army have killed 19 people and injured 27 in the eastern Democratic Republic of Congo, the government says.
At a press conference on Tuesday, Congolese government spokesman Lambert Mende said 15 rebels were killed and 21 injured, while four soldiers died and six others were injured in Monday's clashes in North Kivu province, 12 kilometers (about seven miles) north of Goma.
"Heavy weaponry and several cases of ammunition from the exterior have been recovered in two enemy positions, which have fallen under the control of the Congolese army," Mende added.
However, M23 military spokesman Vianney Kazarama rejected the figures, saying only two rebels and two soldiers were injured.
A new round of clashes between government forces and the rebels began on Monday and continued on Tuesday in North Kivu province.
Meanwhile, UN Secretary General Ban Ki-moon said during a visit to Mozambique that the United Nations would speed up the deployment of a new intervention force in the country.
"Considering what has happened, I think we must expedite the deployment so they will be fully responsible as soon as possible," Ban stated.
The mandate of the UN peacekeeping mission in Congo, known as MONUSCO, was recently renewed by the UN Security Council. The new mandate allows the creation of a special unit, called the Force Intervention Brigade, to carry out targeted offensive operations against armed groups rather than merely protecting civilians. The forces of the special unit are expected to arrive in the country before July 1.
The M23 rebels seized Goma on November 20, 2012 after UN peacekeepers gave up the battle for the frontier city of one million people. M23 fighters withdrew from the city on December 1 under a ceasefire accord.
The M23 rebels defected from the Congolese Army in April 2012 in protest over alleged mistreatment in the Armed Forces of the Democratic Republic of Congo (FARDC). They had previously been integrated into the Congolese army under a peace deal signed in 2009.
Since early May 2012, nearly 3 million people have fled their homes in the eastern Congo. About 2.5 million have resettled in Congo, but more than 460,000 have crossed into neighboring Rwanda and Uganda.
Congo has faced numerous problems over the past few decades, such as grinding poverty, crumbling infrastructure, and a war in the east of the country that has dragged on since 1998 and left over 5.5 million people dead.