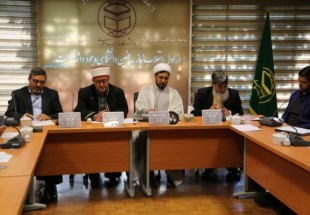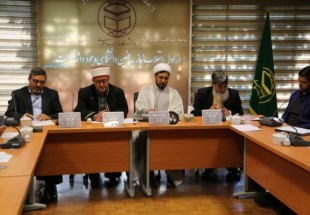 Academic elites and religious figures from different countries attended the meeting to review the Supreme Leader's letter to the western youths held in Iran's University of Islamic Denominations (UID) discussing the messages of the Leader of Islamic Ummah and Oppressed Imam Sayyed Ali Khamanei.
Hujjat-ul-Islam Mohammad Hussein Mokhtari, director of Iran's University of Islamic Denominations attended the meeting of professors and academic figures from different countries held in Tehran and  highlighted the role of international students at the academy to promote the message of Supreme Leader in the letter to western youths, reported Taqrib News Agency (TNA).
He said," The fact that youths are likely to distance from Islam is a concern for the Supreme Leader as I find Ayatollah Khamenei a father figure whose recommendations should be heard and carried out."
The cleric called for more attention to Islamic resources and warned of misunderstanding or deviate readings of Qur'an and hadith leading to a fake version of Islam in contrast with the true religion.
Director of the University of Islamic Denominations praised the unifying role of the academy to bring Shia and Sunni Muslims closer and materializing the objectives of Supreme Leader's letter.
Hujjat-ul-Islam Yahya Jahangiri, deputy of international affairs at UID noted the rhetoric of the Supreme Leader's letter not related to a religious leader but one with paternal affection recommending the youths out of long years of experience.
Khalil Ahmad Khan, Pakistani professor in this meeting referred to 'necessity of peace' as the key theme in Supreme Leader's letter calling for special attention to the open letter by the Leader as guideline towards true Islam.
Ahmad Imam, Greek elite attending this meeting lauded Islamic Republic of Iran for its pioneering role to defend Palestine hailing the Supreme Leader's tact to unveil the Takfiri terrorist nature and introducing western counties as the masterminds of terrorism.
The meeting to review the Supreme Leader's letter to western youths in Europe and North American countries was attended by professors and elites from Pakistan, France and Greece and also professors and international students from Iran's University of Islamic Denominations.
Supreme Leader of the Islamic Republic, Imam Sayyed Ali Khamenei, has addressed the western youths in Europe and North America in two open letters written in 2015 asking them to find the truth of Islam.