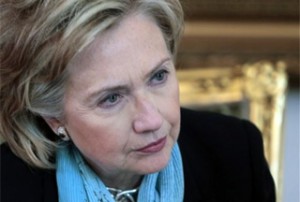 The White House and Kremlin are very close to finalizing a new treaty on nuclear arms reduction, says the US secretary of State Hillary Clinton.
Clinton said on Thursday that the negotiators on both sides are working toward fixing the remaining sticking points to pave the way for hammering out a new Strategic Arms Reduction Treaty (START).
"We are working very hard on the START final negotiations," Clinton told reporters, according to AFP.
"I think that both sides are committed to completing the START treaty. It's just a question of when that will be achieved."
Both Washington and Moscow have agreed to replace the old 1991 treaty with a new accord. The old deal expired on December 5.
President Barack Obama and his Russian counterpart Dmitry Medvedev have set as a goal reducing the number of warheads on either side to between 1,500 and 1,675 and the number of "carriers" capable of delivering them to between 500 and 1,100.
The United States has said it currently has some 2,200 nuclear warheads, while Russia is believed to have about 3,000.