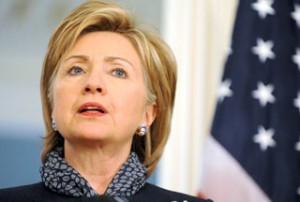 US Secretary of State Hillary Clinton has arrived in Islamabad in an attempt to turn a new page in relations with Pakistan, where anti-US sentiments run high.
"We have a relationship that we want to strengthen," Clinton told reporters at the start of her three-day visit on Wednesday.
"It is unfortunate that there are those who question our motives, perhaps are skeptical that we're going to commit to a long-term relationship, and I want to try to clear the air on that," the top US diplomat stressed.
Clinton also urged Pakistan to join the nuclear non-proliferation talks, expressing concerns over the security of Islamabad's nuclear weapons.
The remarks come as Washington-Islamabad relations face an uphill road as public outrage has increased over recent drone attacks in Pakistan's restive northwestern region and a controversial US aid package.
Hours after her arrival, a powerful blast has ripped through a crowded market in Pakistan's northwest city of Peshawar, killing and injuring dozens of people.
Last month, US Congress approved the plan to provide Pakistan with a massive $7.5 billion aid package over the next five years.
Critics say although the non-military bill is to assist Islamabad, it insists on controlling the way the money is channeled and therefore violates the country's sovereignty.
The developments come as the US also considers extending to Pakistan its military campaign in Afghanistan, where Washington has fallen short of arresting or eliminating any key militant leaders despite bringing about thousands of civilian casualties.