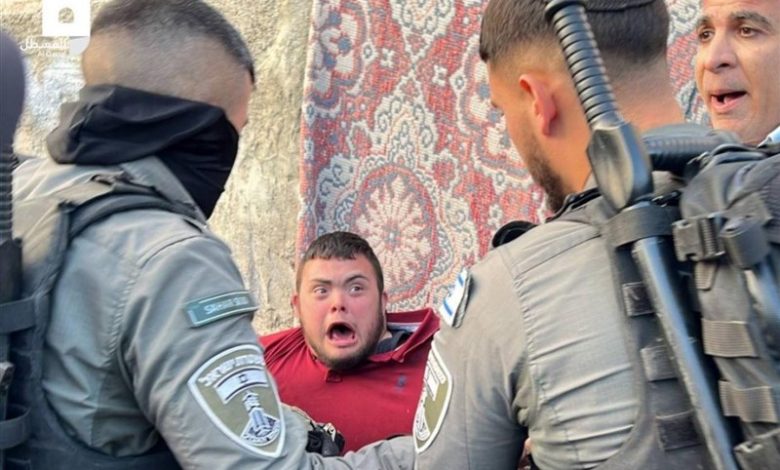 The video has sparked outrage after it widely circulated online, showing Israeli officers forcefully grabbing Muhammad al-Ajlouni in an attempt to arrest him during a demonstration outside the Salem family home who are facing imminent court-ordered expulsion to make way for Israeli settlers.
Aljouni is seen panicking and screaming before several Palestinian protesters surround the officers and try to free the 25-year-old man.
Muhammad Dannoun, a paramedic on the scene, told Al Jazeera that five security forces severely beat Aljouni, and that he would have been arrested if not for the intervention of locals.
A later video shows the young man being taken away by a Palestine Red Crescent Society ambulance. Dannoun said that Aljouni had suffered from a state of panic, as well as pain in the neck and shoulders following his treatment at the hands of the officers.0 seconds of 1 minute, 26 secondsVolume 90%
The footage of the assault was widely shared and condemned online.
"Israeli state violence is cruel and does not care about a Palestinian's age, gender, or ability. All Palestinians are seen as a threat," tweeted If Not Now, a US-based Jewish rights group.
Husam Zomlot, the head of Palestine's mission in the UK, posted the video with the caption: "How low can you sink?"
The Palestinian man with special needs lives in Wadi al-Joz, a neighborhood in East Jerusalem al-Quds close to Sheikh Jarrah, where the plight of families threatened with imminent eviction has gained international attention.
According to eyewitnesses quoted in local media, he was attending a wedding organized near the al-Saow and Salem homes in solidarity with the families.
Last week, Israeli settlers stormed Sheikh Jarrah ahead of the reopening of far-right Knesset member Itamar Ben-Gvir's office on land belonging to a Palestinian family.
Dozens of settlers set up a tent on the Salem family land, who are facing expulsion, and clashed with residents and supporters, injuring 73-year-old owner Fatima Salem among others.