World News
Colombia probes army spying of peace negotiations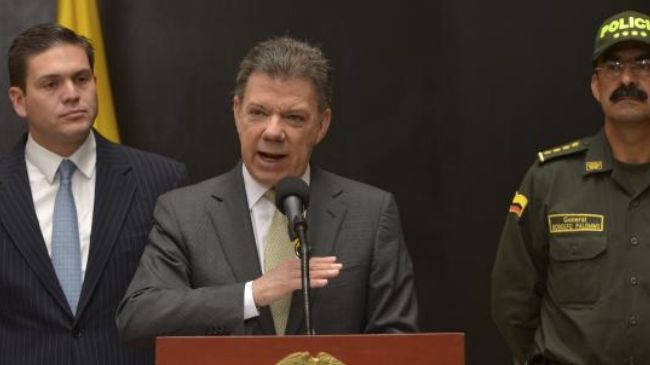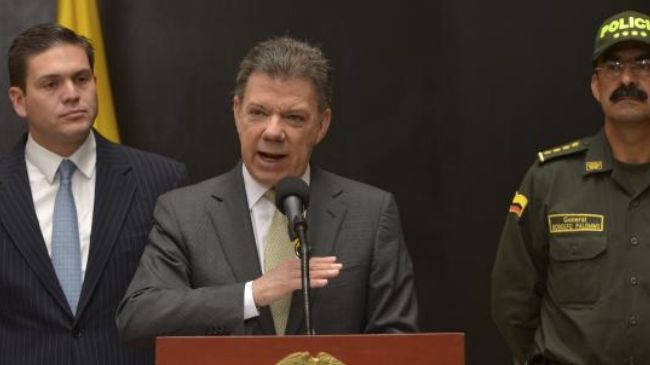 Colombia's President Juan Manuel Santos has ordered a probe into claims that an army intelligence unit spied on the peace negotiations with the Revolutionary Armed Forces of Colombia (FARC).
The supposed eavesdropping is an attempt by "obscure forces" to damage efforts to end the half-century-old insurgency, Santos said on Tuesday, condemning the espionage as "totally unacceptable."
He ordered Defense Minister Juan Carlos Pinzon "to investigate this situation in depth: how far it reached, who was behind this, who was interested in taping our peace negotiators."
Santos also noted that he wanted to know "what dark forces are behind this, if there are loose cannons in army intelligence, who they are reporting to."
The alleged spying was revealed by Colombian Semana magazine, which said in an article on Tuesday that a special army unit was established in 2012 to track the communications of members of the government's negotiating team.
Colombia's government and the FARC have been engaged in peace talks in Cuba's capital Havana since November 2012 to resolve a decades-long armed conflict.
Humberto de la Calle, former vice president of Colombia, along with politicians Sergio Jaramillo and Alejandro Eder, leads the government's delegation to the peace talks.
De la Calle refused to comment on the Semana report. Victoria Sandino, a FARC representative, said the rebel group would publish a statement on Wednesday.
"We knew there was spying, that's obvious", a member of the FARC delegation, who spoke on condition of anonymity, said, adding, "The news here is that a sector of military intelligence was spying on the presidency."
The FARC is Latin America's oldest insurgent group and has been fighting the government since 1964.
Bogota estimates that 600,000 people have been killed and more than 4.5 million others have been displaced due to the fighting.
The rebel organization is thought to have around 8,000 fighters operating across a large swathe of the eastern jungles of the Andean nation.