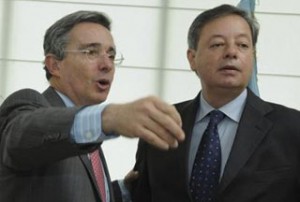 Colombian President Alvaro Uribe has launched a massive operation by sending in the army to release a governor and 24 troops abducted by the Marxist rebels.
"I have ordered the armed forces to make every effort to rescue the governor of Caqueta and the others who have been kidnapped by these bandits," Uribe told reporters on Tuesday.
A unit of the leftist Revolutionary Armed Forces of Colombia (FARC) insurgency, Latin America's oldest and longest-fighting rebel force, snatched Luis Francisco Cuellar on Monday from his home.
"We have to carry out the full military and police rescue operation," Uribe said, and added, "We cannot be subjected to the whims of terrorists."
The guerrillas lobbed a grenade at Cuellar's residence in Florencia, the capital of Colombia's southern department of Caqueta, and exchanged gunfire with security guards before kidnapping the governor and fleeing from the scene.
Uribe has rejected a political dialogue with the FARC, which counts an estimated 7,000 fighters as members.
Last year, some of the FARC's most high-profile hostages, including French-Colombian politician Ingrid Betancourt and three Americans, were rescued from their jungle captivity.