Iran
Middle East
Commander Assures Nation of Full Security at Iranian Borders
Commander of the Border Guards of the Islamic Republic of Iran Brigadier General Ahmad Ali Goudarzi stressed that security prevails at all bordering areas of the country.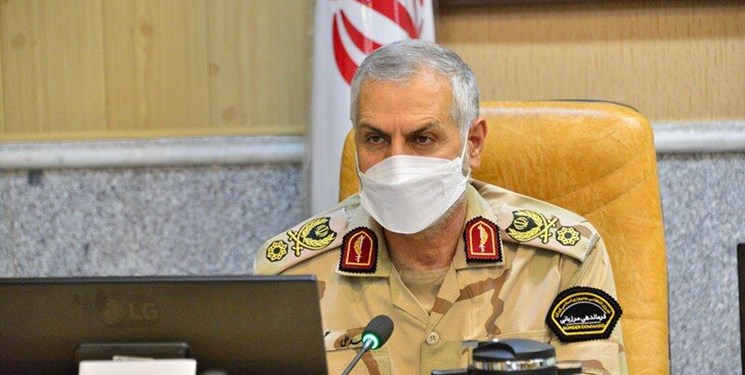 General Goudarzi said on Sunday that sustainable security prevails along the entire borders of the country, particularly in the West and Southwestern borders where the Arbaeen pilgrims traffic frequent.
He reiterated that in order to establish security all along the Iranian borders the border guards and disciplinary forces have put to use their entire capabilities.
"During the course of the past week the borders of Ilam and Khuzestan provinces have been the exit points of the pilgrims who have visas and wish to attend the Arbaeen rituals, and full security prevails in that respect," General Goudarzi said.
"One day deadly bullets were exchanged along the Iran-Iraq borders, but today thanks to unity and sympathy, the flags of Imam Reza's Shrine (8th Imam of Shiites) and Imam Hossein (2nd Imam of Shiites)'s Shrine are exchanged at the borders," he added.
Earlier this month, Commander of Iran's Law Enforcement Police Force Brigadier General Hossein Ashtari had also underlined that there is no security problem along the country's bordering areas, saying that the most state-of-the-art equipment have been provided to the border guards.
There is no security problem at the borders of Iran, General Ashtari said during his visit to the bordering areas shared between Iran and the Republic of Azerbaijan in Jolfa.
He said that the Law Enforcement Police Force is cooperating with border guards of the country incessantly, offering security services round-the-clock in line with protecting borders of the country.
Borders of Iran and Republic of Azerbaijan are the borders of "peace and friendship", he said, adding that complete security prevails in these borders and there is no problem in this regard.
Emphasizing that security situation is the same in the Eastern borders of the country, he said that security situation in these areas is under strict control and supervision and there is no security problem at eastern borders of the country.