Iran
Commander: Iran Fully Capable of Targeting, Destroying US Warships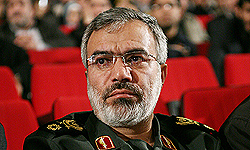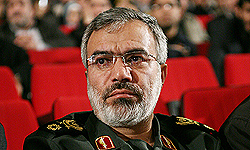 A senior commander of the Islamic Revolution Guards Corps (IRGC) said the US navy is deeply fearful of Iran's naval power in the Persian Gulf, and added that Iran will not leave the US warships undamaged in case of a military move against the country.
"I assure you that if the US warships do a foolish action, they won't leave the area (regional waters) unhurt," Commander of the IRGC Navy Rear Admiral Ali Fadavi said in a gathering in Iran's Northeastern holy city of Mashhad on Wednesday.
He stated that the US Navy is afraid of Iran's naval power, and said the US warships have even rerouted their line of voyage in the Persian Gulf in order to keep distant from the Iranian naval forces.
Earlier in July, Chief of Staff of Iran's Armed Forces Major General Hassan Firouzabadi announced that the country has drawn a plan for closing the world oil lifeline, the Strait of Hormuz, but meantime stressed that Iranian forces will not shut the waterway before they receive the needed permission from the Supreme Leader.
"We have a plan for closing the Strait of Hormuz, but executing the plan needs the permission of the Supreme Leader," Firouzabadi told reporters on the sidelines of an annual gathering of the IRGC commanders at the time.
"The Armed Forces have their own plans for every subject, but the decision to close the Strait of Hormuz lie on the Commander-in-Chief (Ayatollah Khamenei), who also receives consultations from the Supreme National Security Council (SNSC)," he added.
The general dismissed the western states' claims that Iran is not able to block the Strait of Hormuz, and said, "They allege that we are bluffing in a bid to appease themselves."
"Of course, we don't want to block the Strait of Hormuz, but we have a plan for closing it, which is a clever and wise one," Firouzabadi said.
Iran has threatened to close the strategic Strait of Hormuz at the entrance to the oil-rich Persian Gulf if its nuclear program is targeted by air strikes that Israel and the United States reserve as an option.
An estimated 40 percent of the world's oil supply passes through the waterway.