Iran
Middle East
North America
Commander: Iranian Army Not to Compromise Deterrence Power
Iranian Deputy Army Commander for Coordination Rear Admiral Habibollah Sayyari underlined the country's steadfast position to maintain its deterrence and defense power, saying that the trans-regional enemies fear Iran's power.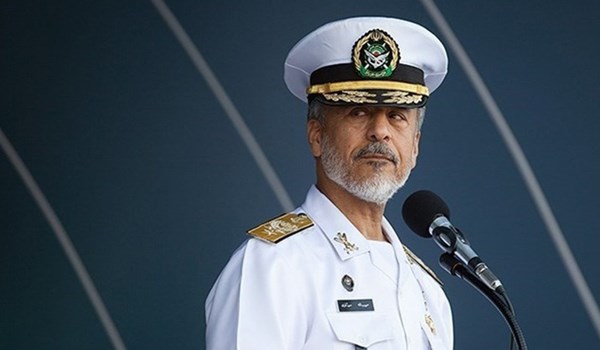 "We are prepared to confront any enemy aggression and our hard power has grown so much that the trans-regional enemies know and fear that if they harm our borders and start a war against Iran, they will not be the terminator of such a war," Rear Admiral Sayyari said, addressing a forum in Tehran province on Wednesday.
He underscored that the Army is standing against all threats, and said, "We never compromise (our) hard power positions and will maintain the deterrence power."
Rear Admiral Sayyari had also in September said that his country's power had deterred any enemy attack.
"Enemy is still present but doesn't dare to face a powerful country; our Armed Forces enjoy full readiness. The enemy knows that the Iranian nation backs the Armed Forces and that people and Leader are united," Rear Admiral Sayyari, addressing a local ceremony in Markazi province in Central Iran.
After the Islamic Revolution, enemies hatched different plots such as assassinations, the imposed war, and sowing discord among different ethnic and religious groups to stop the Revolution's growth, he said, adding, "Today, they are busy designing different conspiracies with different approaches, but they have always failed."
Also, in August, Rear Admiral Sayyari warned of the country's crushing response to any aggression, and said the Islamic Republic Armed Forces have prepared different scenarios to confront enemies' threats.
"The incidents around us show that numerous threats are posed to us and due to the variety of threats and different changes, we have prepared numerous scenarios to confront enemy threats," he said.
"The enemies should know that if they decide to target the Army and Armed Forces, they will certainly face a response which makes them regret their deed," Sayyari added.